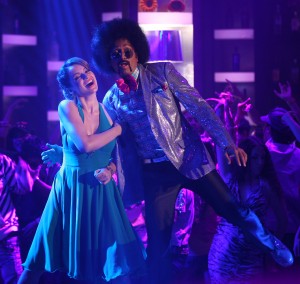 The makers of Double Dhamaal have bought the rights of Tridev's (1989) hit 'Oye oye…' to be featured in the movie. During the shoot of that song, actor Kangna Ranaut was supposed to get close to her co-star Riteish Deshmukh. But she faced constant problems cozying up with him, thanks to his African-retro disguise. Ritiesh wears a large wig as part of his costume, due to which Kangna had problems kissing on his cheek.
After several retakes, they finally managed to shoot it with different dance moves choreographed by Ganesh Acharya. "Despite combing it down, Riteish's wig kept troubling us. Nothing helped but finally, thanks to Ganesh, we managed to shoot around the wig," says a source from the film's unit.
Produced by Indra Kumar and Ashok Thakeria in association with Reliance Entertainment, Double Dhamaal releases on 24th June.