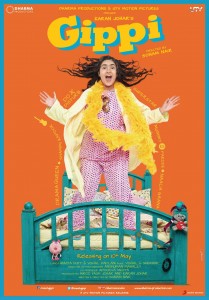 Karan Johar is all set for his new movie Gippi. It is a simple movie about a 14-year-old girl (played by 13-year-old Riya Vij), who falls in love with a hunk (played by Taaha Shah) in her school. It also has a maximum number of newcomers, all from Delhi. They shot during their summer vacations last year.
It's one of the least expensive projects of Dharma Production and it is directed by Sonam Nair who was an assistant director in Ayan Mukherji's Wake up Sid.
This movie is different from other Karan Johar movies, usually romantic films and family entertainers that he produces and directs.
Calling Gippi a small film with a large heart, KJo feels that the story of Gurpreet Kaur, aka Gippi, is one that many will relate to.
"Gippi is a new kind of film and it is unusual for us to venture into that space. I hope it gets all the love it deserves. The script took me back to my growing-up years. Everyone has a Gippi in them and I'm sure people will connect with the character. Small films need large strategies. And we'll be going all out for this one. It has been translated very sensibly," said Johar.
About Sonam, KJo says, "Ayan told me about this script being lively. When I started reading it, I found it was a page-turner. And the next morning, I wanted to make the movie. Sonam, who is the first woman director on board a Dharma project, is vibrant and fun herself. She has the spark to make great fun films."
Speaking about the music composed by Vishal-Shekhar, he added, "They have come up with a spunky soundtrack. Just like the character of Gippi, the music had to be kick-ass."
Gippi, produced by Dharma Productions, releases on 10th May 2013.
In case you missed the trailer check it out!