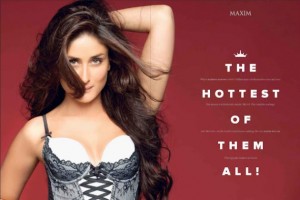 Kareena Kapoor is climbing higher and higher up the success ladder and has fast become the highest paid actress in Bollywood.
Not only is her latest film Heroine going to be one of the biggest releases of this year but it is also one of the widest releases of a female oriented film.
Kareena who seems happy to be taking on a protagonist's role in a male centric industry said, "I am happy that Heroine has turned out to be my bravest role. Not many actresses would dare to play the role of a declining superstar," (Source: DNA)
The star who is ready to dominate the box offices has also been voted as the world's sexiest female.
Bebo who recently took to the cover of Maxim is over the moon upon receiving this title, "It is always wonderful to feel sexy and hot. And when it comes from Maxim, which truly recognises hotness in a woman, then it is even better." (Source TOI)
The magazine which undertook a survey concluded from its results that Miss Kapoor was in fact the hottest female around.
Other Bollywood stars that have graced the cover of Maxim include, Sameera Reddy, Deepika Padokune and Bipasha Basu.
Although last year the title of the sexiest female went to Priyanka Chopra it seems Bebo is indeed the hottest lady in 2012 as she concluded, "Hotness is about how a woman carries herself. It is not just about a thin waist and long legs. It is about the entire package. I am glad that you guys find me hot and I definitely take it as a big compliment." (Source: TOI)