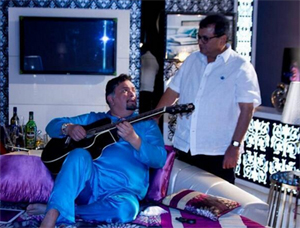 After working together in Karz in 1980, Rishi Kapoor and Subhash Ghai have come together again for Kaanchi which releases next month.
When asked why it took 33 years to work with Subhash Ghai, Kapoor said, "Only Subhash would be able to tell. I was 27 when he shot the Om Shanti Om song with me for Karz. Today I'm 61, and he's shooting a song in Kaanchi with me, which seems to have the same energy."
Rishi Kapoor plays a negative role, styled on Vijay Mallya in Kaanchi. "It's a negative character. The kind of over-the-top character that Subhash Ghai creates. It is inspired by Vijay Mallya; it's been styled on him. But it's not the story of his life," says Kapoor.
Subhash Ghai says about Rishi Kapoor, "He will play a khalnaayak in my film. While he's always been the romantic lover boy, lately, Rishi has discovered his mean bone. I didn't want to cast him as a conventional bad guy. He plays a negative character but also a man who is heavily into music."
Kaanchi stars newcomer Mishti and Kartik Aaryan in the lead roles with Mithun Chakraborty and Rishi Kapoor in supporting roles. The movie is slated to release April 25th.