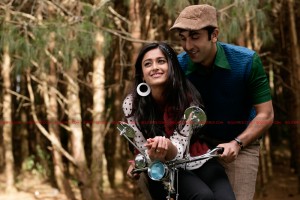 Ileana D'Cruz, who is making her Bollywood debut in the much talked about film Barfi!, is all gung-ho about her role in the film. The movie is a love triangle and Ileana will be Ranbir's love interest as well as the narrator of the film.
However, what many don't know is that Ileana's role was earlier offered to Katrina Kaif. Interestingly, Kat also gave a nod to play the role. However, that didn't work due to date issues, says director Anurag Basu.
"I wanted the pair RK and Katrina to come back as they look nice together. So, I had approached Katrina for Ileana's character and she said 'yes' for the role. But that didn't happen because Rockstar was being delayed and Katrina was supposed to be a part of Rockstar that time. However, it's all destiny. And I guess, this role was in Ileana's destiny so she got it. Ileana was an instinct choice after Katrina for this role," revealed Basu.