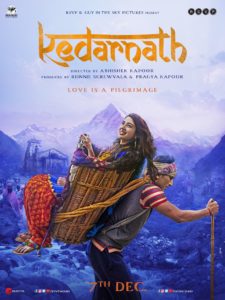 Hindus are born into a culture filled with the Trimurti… the lord of creation Brahma, the lord of preservation Vishnu and the lord of destruction Shiva. Brahma gives us the world, Vishnu shows us the right way to live in it, sometimes coming down as an avatar to lead by example but Shiva is most famous for performing song and dance that truly shake the world. In Kedarnath, a new film by Abhisekh Kapoor presented by Ronnie Screwvala, we see Shiva's power at work in a story of love whose backdrop is the horrific events of the 2013 Uttarakhand floods which devastated Kedarnath the town. Amit Trivedi gives the songs for this epic story of struggle with Hitesh Sonik providing background scores for Mansoor and Mukku to find each other, fall in love and be tested by one of the greatest forces on earth.
No surprises then to open the album with Namo Namo. A devotional song for lord Shiva, it takes all his most popular names so that the song will ring true to those in multiple languages and of multiple faiths. Amit Trivedi is solo on the mic for this one, singing with all heart backed predominantly by a chorus line and tabla. The codas and bridges give the listener breaks using flute and acoustic guitar, but they are used best in the opening as a backdrop to the religious bells that are often used in ceremonies and festivals. If you're the sort of person who feels that more attention should be paid in films to devotion and religion, this is a great song but for most people it has an unchanging beat, no real rhythm and certainly doesn't try to be different from any number of 'bhakti geet' that can be bought everywhere.
Qaafirana is a love song. For this film it's the love song. Following strong love songs like Pal from Jalebi, Ahista from Laila Majnu and even Chogada from Loveyatri, Amit Trivedi has a very tough job on his hands here. Towing the line, he has Arijit Singh for the male lead and of course Arijit is spectacular at winning over people with this sort of song. But Amit Trivedi is always known for his flashes of brilliant difference where with one small change he presents a standard idea in a completely new form. Here he choses Nikhita Gandhi as the female lead. Her voice is coarser than the ones in the above-mentioned songs, but her singing style allows for a more upbeat tempo and sound to the song. For a little more twist, there is a santoor used to provide flourishes at the end of occasional lines which brings a little more life to the sound. Keeping in mind santoor is often a water themed instrument and a picture forms in the mind without having looked at the video available. Finally, we have the beautiful Urdu lyrics "Jaise mil rahe ho itr se hawa". Overall, this song is likely to bring a smile to the lips and joy to the heart, but it feels more personal then the above songs and thus not quite as epic.
Sweetheart is Amit Trivedi's signature tune. The first 2 songs on the album are a requirement for the sake of the film, this one is for the sake of Amit Trivedi! Folk tunes, a dancing wedding song with traditional instruments. The main characters seem to be at a friend's wedding on either side of the bridal party, and with all the colour and this song its hard not to want to dance. Lots of big drums keep a good beat, some violins to back the melody and Amit Trivedi's favourite mandolin interspersed to give it a livewire feeling. No need for club beats on this one, just happy people dancing in an open setting. For those who are already fans of Amit Trivedi this is expected and fills the bill exactly, but it should be noted that also makes it very samey as many of the tunes that made him famous.
Having started with the serious and got more and more fun, the album finds perfect balance with 2 devastating songs in male and female versions Jaan 'Nissar. Note the apostrophe before Nissar as throughout both songs the singers use it like its one word. Arijit Singh and Asees Kaur put their voices to powerful use backed by very little instrumentation in acoustic guitar and a box drum as they sing sad songs about separation in love. "Ke marage ziyada mujhe maut se narazagi teri". Each contemplates how to win back the other, an issue having caused their happiness to fall apart. However as this is about redemption rather than loss, the sadness is not ultimate, and hope is the wish of all things.
From this album, it would seem there will be no songs during the floods themselves so its likely they will end early in the piece. This means they are solely focused on the love story aspect of the story. From that perspective the album has followed the basic love story angles covered by all romantic movies in Bollywood: the kindling in Sweetheart, the love in Qaafirana, the loss and fight in Jaan 'Nissar over both parts. So, from a story viewpoint, it gets a big tick. From a musical standpoint, the songs are nice, but not particularly memorable. As a listener if you can attach them to an existing memory of your own, they certainly will be, but not too many Bollywood listeners think of their love life in Urdu! Also, in competition with a couple of good love story-based albums in the last few months this doesn't do enough to stand out.