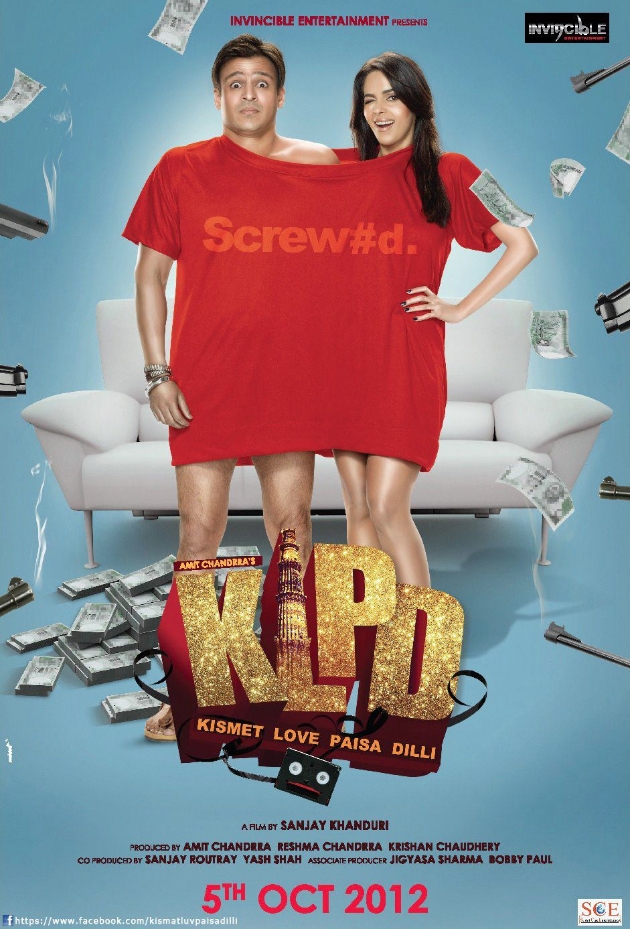 Kismet Love Paisa Dilli, directed by Sanjay Khanduri, is an upcoming comedy film starring Vivek Oberoi and Mallika Sherawat, set to release on 5 October 2012. According to its synopsis, the film is set against the backdrop of Delhi, where a young man and a young girl both miss their final metro back home. They end up wandering around the city at night where a series of events brings them closer together. You will have to watch the film to see how this story turns out! The music is composed by Amjad Nadeem, with lyrics by Shabbir Ahmed, who has recently penned the songs for OMG Oh My God (2012) and Dangerous Ishhq (2012). Also Santokh Singh adds to the mix as a guest composer and lyricist for 'Appy Buddhay' (Videshi and Desi Versions). So let's take a look at what the soundtrack to Kismet Love Paisa Dilli has to offer.
The first track on the album is Dhishkiyaon, a duet by the very talented singer Sonu Niigaam and former Indian Idol contestant Ritu Pathak. The song is average but listenable and if anything, Niigaam's famous voice is the glue that is holding the song together without it falling apart completely. Having said this however, it is not one of Niigaam's best performed songs. Pathak is a great singer, but her voice presence in the song is short. I felt this was not the ideal song for her to be able to demonstrate greater versatility using her vocals, despite having the dream opportunity of singing alongside Niigaam. The composition by Amjad Nadeem is decent and an array of instruments can be heard such as trumpets and the flute, as well as the use of mild bass to give the song some flavour. Yet more could have been done in order to make this a truly memorable up-tempo song. Nevertheless, give the song a listen simply for Niigaam's signature voice, which may catch your ear's attention!
Next up is Appy Buddhay. There are two versions of this song: a Videshi Version and a Desi Version, both of them sung by Santokh Singh. Both versions are very Punjabi in both feeling, flavor and adding to that are the Punjabi lyrics. The 'Videshi Version' appears to be a club version with the use of bass and electric guitars. The 'Desi Version' of this song has a different musical arrangement with the use of the harmonium and the dhol drums, with some modern instruments like the electric guitar thrown into the composition. Honestly, both versions of this song are equally dull and forgetful. They are nowhere near some of the classic and brilliantly composed Punjabi oriented songs I have heard in past Bollywood soundtracks. Singh's vocals are average in both tracks. Overall, they are perhaps the least appealing songs in the album and are both skip worthy in my opinion.
The soundtrack also has the song Jugaad, performed by the fantastic and ever-reliable singer Sukhwinder Singh. Mamta Sharma also is heard on this duet. This is definitely the best track in the album due to Sukhwinder's strong and passionate vocals makes the song interesting to listen to and gives it the edge it needs. He does not disappoint and his voice compliments the musical arrangement used for this particular track. The dhol drums are heavily felt in this song and and really add to the flavor of the track. Sharma's voice does not really have much of an effect on you and she has not performed her best in this one. Therefore without Sukhwinder's voice, this song would have certainly gone downhill. However, it is a catchy song, so do give it a listen, especially those who are avid fans of Sukhwinder Singh.
The final song in this album is Don't Fuff My Mind performed by Vivek Oberoi and Mika Singh. I may be wrong in my prediction, but it sounds like this may be used during the opening or closing credits of the film. However, there is no real appeal to the song, which contains mediocre vocals and music and I feel that it will be forgotten once the film's promos are over. I am surprised at the fact that Oberoi chose to sing a song for the film and he deserves praise for being courageous enough to make such a move. Nevertheless, this does not change my opinion regarding the quality of the song, which I deem to be weak and unfulfilling. The same applies to the Remix of Don't Fuff My Mind, which is not a mesmerising track at all. In fact, you are left wondering whether people will actually play this number in a nightclub or a party event, which is not unique in its nature.
To sum up, the soundtrack to Kismet Love Paisa Dilli is lacklustre and disappointing overall. Out of six songs only two are worth listening to, both of them due to the voice presence of Sonu Niigaam and Sukhwinder Singh. Without them, the album would have crumbled and there would be no songs left to enjoy. The best track in this album is definitely 'Jugaad' so do give this one a listen and see if you agree with my thoughts on it. In the end, we say this one is not a classic and the soundtrack to Kismet Love Paisa Dilli gets a 1.5 star rating!