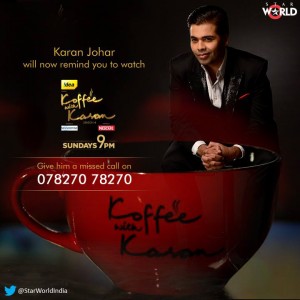 The successful talk show 'Koffee with Karan' entered its 4th season on Star World premiering in December, creating waves with the first episode featuring the ever-elusive Salman Khan. The popularity of that episode has not waned as the show continues to maintain the top position in its category for 11 straight weeks since its launch. In its premiere week itself it delivered 222 TVT and it currently owns 58% viewership on the primetime slot of Sunday at 9pm.
With the first season hitting the small screen in 2004, Koffee with Karan has come to be known as the go-to destination for an insight into the lives of celebrities. With his witty repertoire and unbeatable charm Karan has managed to get the juiciest bits of gossip from the celebrities he invites onto his show. His dynamics with the biggies of Bollywood make it effortless for the director/producer to tease and joke with them about rumours, relationships and everything in between.
Viewers get a weekly dose of celeb gossip straight from the stars themselves in a setting no one but Karan Johar can pull off. The 4th season of the show has pushed the envelope in a big way with a lot of first timers taking to the couch. While Salman stole the show with the first episode creating history in the talk show space in India, other debut guests on the Koffee couch were Aamir and wife Kiran, Akshay Kumar, cousins Ranbir and Kareena who have never been on a talk-show together before.
The show has also witnessed immense popularity on social networking site as the Twitter auction where fans stand a chance to win the autographed mug signed by the guests on the show has seen much success.
Speaking on the success of the season, Kevin Vaz, General Manager – English Channels, Star India said, "Koffee with Karan is a great show, the format is excellent and the content is engaging.  It has revolutionized the Indian talk-show space and is clearly delivering exactly what the audience wants to see. We've seen a huge amount of growth in terms of popularity over the years and this season has been the most successful until now."
Over the course of the 4th season, the show has seen a host of illustrious names grace the infamous 'Koffee couch' like Farhan Akhtar and Vidya Balan, Abhishek Bachchan and Farah Khan. Of the episodes, the one featuring Akshay Kumar had the highest number of eyeballs, gaining 156 GVTs. With this already impressive line-up, the fun doesn't stop soon as the show is expected to see quite a few more names grace the sets including Anil and Sonam Kapoor, Kajol among others.