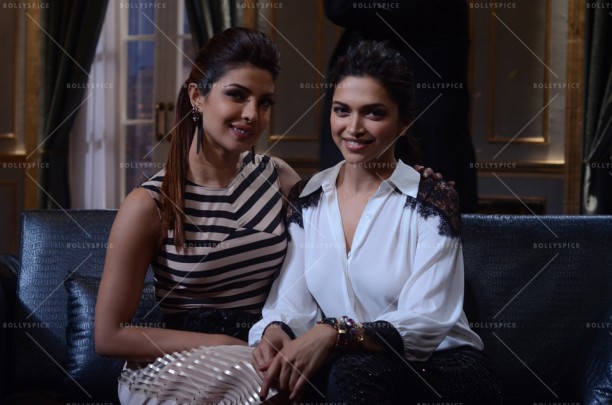 Karan Johar is back in the New Year continuing on his Koffee rendezvous, promising to bring stories you've never heard! With his guests in the five episodes so far giving tabloids enough gossip for thought, in the show this weekend are Bollywood's reigning queen Deepika Padukone and Exotic actor-singer-GUESS brand ambassador Priyanka Chopra. Now we all know what transpired when two heroines took to the couch and decided to just have some fun in a previous season. The sneak peak of the upcoming episode pretty much nudges that the audiences are in for some katty quotes. And with so much happening in the duo's past and present, if they do try and court tact, there's a high chance that Karan isn't accepting boring for an answer.
Karan: Your performance last year truly won you all the laurels and all the kind of praise that came in globally for Barfi, truly a stunning portrayal. What happens, does it pinch you when sometimes you don't get the award you deserve?
Priyanka: This film for me was very special and I knew I wasn't getting it, like before. I sat through it.  I told my dad, he was in the hospital at the time, I told him I'm going for Filmfare, he said, " Good Luck, your performance was amazing" So I found out and I remember calling him and saying that you know, I'm not winning it, why should I stay. And he said, "Because you're a good sportsman, stay and clap for someone else" So I decided I would do that. And yes it did hurt me that year specifically it did.
Karan: Do you think you were better than Vidya?
Priyanka: I think my performance was a lot more, nuanced and different. I mean for me it was something completely differently done, but yet the film, Kahaani, Vidya supported completely on her shoulders, and it was a film entirely about her. So I understand.
Karan's question on actors getting along
Deepika: I think it's a perception that actors can't get along
Karan: Really, who else have you got along with?
Deepika: I'm friendly with Anushka
Karan: Really you're friendly with Anushka, I really choked on that
Karan: So you're dating Ranveer Singh but not talking about it
Deepika: Am I?
Karan to PC: Do you think she's dating Ranveer?
PC: I have no comment on that.
Karan: Okay why would you keep it quiet, when you'd kept Ranbir in the open?
Deepika: I think that that was a stage in my life when I genuinely believed that I had fallen in love. I think that it was a relationship that I thought would go beyond. For whatever reasons, it didn't work out. And since then I think I'm very, very scared to invest in emotionally in a relationship, because I don't know how to just casually date, I don't know how to be in this in-between dating but not committed thing. I don't know that space.
Karan: There's no awkward moment with the current love interest?
Deepika: Who is the current love interest?
Karan: You're okay; you did a whole film with Ranbir
Karan: If you're dating somebody and you do a film with Ranbir, do you keep it all separate?
Deepika: My equation with Ranbir is very, very clear.
Karan: You went on record and said that, that's something only you'll know, the extent of the relationship, in terms of the intensity.
Deepika: The best part is that he and I are very clear about where we are in our lives today, as far as our equation is concerned. So there's no reason for anyone is his life or anyone in my life to be worried about or concerned or insecure about our equation.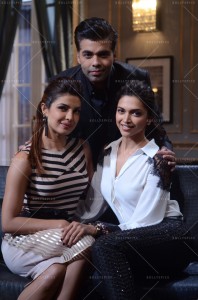 Deepika: Today I know that I can walk into a room with all my contemporaries and be very comfortable
Karan [to PC]: And what about you?
PC: Walk into a room with my contemporaries and be comfortable? I've always been. I make a person uncomfortable, that's not my fault.
Karan: How did you deal when your relationship with Ranbir ended? Was it really tough for you?
Deepika: It was very, very difficult for me because, I think, somewhere also that relationship became my world. I was new to the city, so his friends became my friends and that life became my life. And I don't think I made the effort to have my own life. I think that relationship really taught me a lot, when it ended. It's made me a better person today and he says it himself.
The Rapid Fire with Priyanka
Karan: In whose bedroom would you find the following things?
(a)  Handcuffs – [Reply] Maybe a certain magazine editor whose hands have been certain places
(b)  Lifesize poster of themselves – [Reply] Bebo
Karan: Who would you dedicate the following pop-songs to?
(a)  Let's talk about sex baby – [Reply] Deepika
(b)  Hips don't lie – [Reply] Sonakshi! She has some Mas-a-la hips man
Karan: React in 1 word to the following actors:
(a)  Shahid Kapoor – [Reply] Gandi Baat
Rapid Fire with Deepika
Karan: Who is the first one that you think will get married, you or Ranbir?
[Reply] I think he will
Karan: Your best on-screen kiss was with Ranveer, Ranbir or with Saif?
[Reply] Ranveer
[bolt id="522111″]