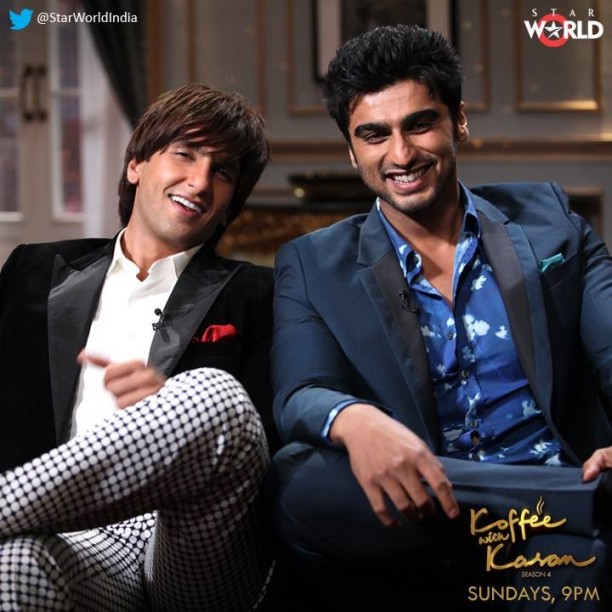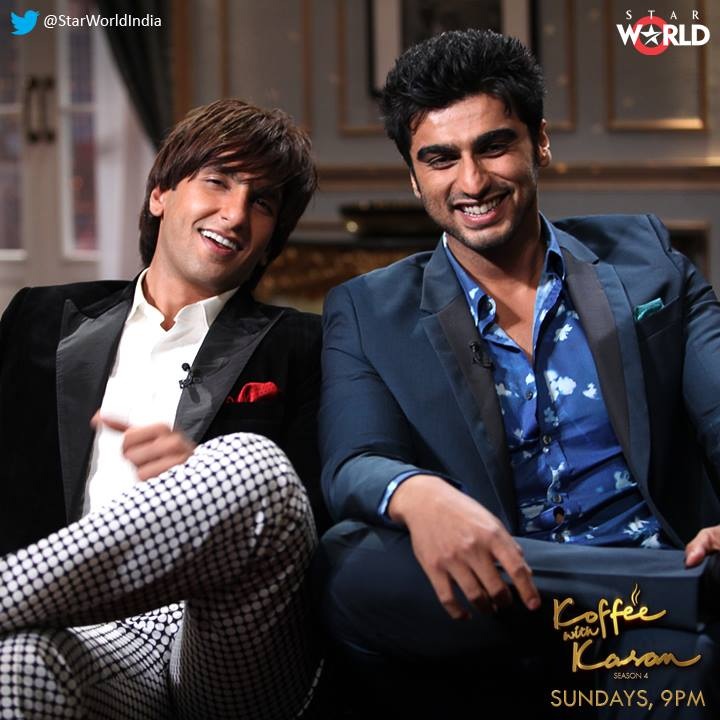 From candid confessions to no-holds barred revelations, the on-going season of 'Koffee with Karan 4' is sure living upto its promises of going 'behind the scenes, beneath the sheets'! After three explosive episodes, the fourth episode of the season features Gunday co-stars Arjun Kapoor and Ranveer Singh. From reminiscing about Ranveer's days in US as a Starbucks waiter, to confessing about their mutual love for B-grade film songs, the Gen-Y lads are brewing quite an appetizing concoction of high jinks and raffish entertainment in their turn on the KWK couch!
Sample this: In the rapid fire round, Karan asks Ranveer, as to what would be his reaction when a male co-star tries to hit on him. Ranveer turns to Arjun and says, "Tell him, how I react when you hit on me." To which Arjun retorts with a straight face, "He just takes his pants off"
And because whatever Salman Khan says or does, becomes an immediate trend, looks like his 'I am a virgin' comment has rubbed off on the young turks as well; with them parroting Salman's infamous confession word-to-word.
Karan: How many girls have you slept with…
Ranveer: Am not answering this question. (After a pause) I'm a virgin.
Karan: Listen, Salman's already done that.
Arjun: Bhai is a trendsetter. We are both virgins. I'm a late bloomer. If I lay on the bed I was a beach whale. It was difficult to do other things. I could hardly see my belongings. My journey started much later. Now I am making up for it.
Karan: So now you are a rampant rabbit.
Arjun: I like that name. If I was a pornstar that would be my debut film, The Rampant Rabbit.
THE RAPID-FIRE ROUND
Karan: (to Arjun) whose swayamvar would you participate in?
Arjun: Priyanka Chopra! I think it would be great to see how she reacts.
Karan: (to Ranveer) The most iconic Khan in your opinion?
Ranveer: Kamaal R Khan (turns to Arjun and imitates KRK) You are two rupees person!
Arjun (also imitates KRK): If Arjun Kapoor can become actor, then anybody can become actor!