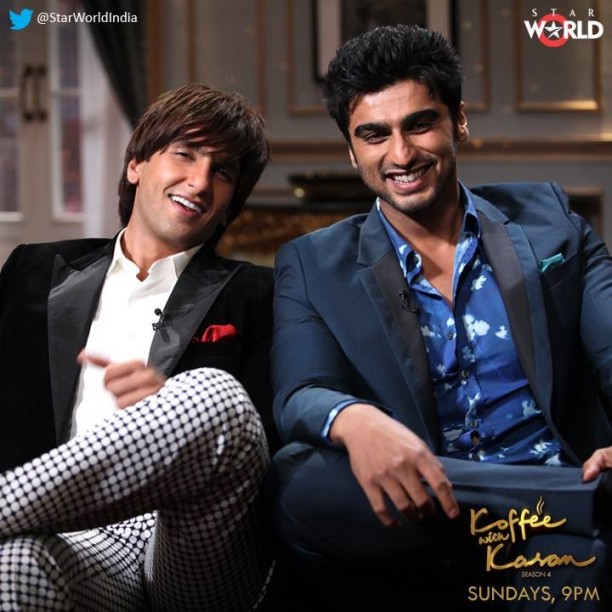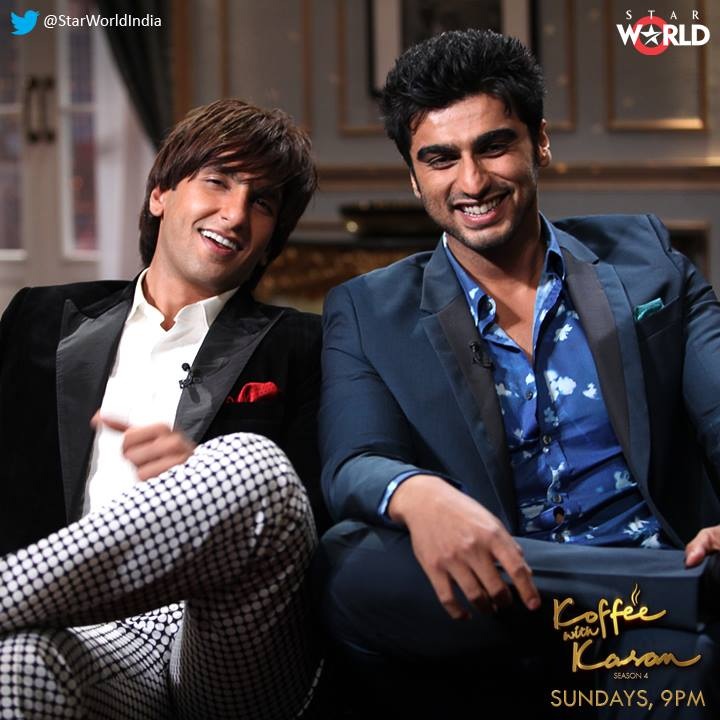 All hail the arrival of the new league of Gen-Y actors, one who wear their hearts on their sleeve and do not shy from calling a spade a spade more often than not. If you thought that debuting Salman and Aamir on KWK 4 would be Karan Johar's ace card, the fourth episode of the series featuring Arjun Kapoor and Ranveer Singh outdid all the drama and entertainment we've seen or heard on the koffee couch so far. We all knew that an unabashed Ranveer Singh would be as guileless as he always is, but it was heartening to see a fun albeit measured side of the usually reticent Arjun Kapoor.
Ranveer kick stormed the show by planting a kiss on Karan's cheek and calling him sexy-boy. This was Karan's cue to ask him about his constant public display of affection for Deepika to which he admitted that it wasn't a big deal and he was just a 'hugger and kisser' as normally Punjabis are known to be. When Karan prodded on his equation with rumored past Anushka Sharma and rumored present Deepika Padukone, he smartly avoided falling for the bait, smirking the 'good friends' and 'special person' clichés instead. Ranveer then took upon himself to introduce Arjun on the show, with lines that no script or as Karan himself exclaimed couldn't beat it "Ubharta hua sitaara, meri aakhon ka taara, dulhaara, ishq ka maara, hearththrob, ladkiyon ki dilon ki dhadkan"
What followed for the rest of the show was probably something that even Karan would never have predicted. Between dismissing Karan's attempt to a conversation but focusing on complimenting each other's pecs and delts, incessantly referring to each other as 'Baba', breaking into spontaneous mimicries or jigs after every two lines, putting up serious display of 'touchy-feely' bromance, hugs, appreciative glances and all, Arjun and Ranveer managed to upstage Karan who good-naturedly exasperated "metrosexuality is making me feel awkward and uncomfortable". The episode that started off like every other chat show; must've had the scriptwriters tearing their hair, when Arjun and Ranveer instead decided to be their boisterous selves, throwing tact to the wind and giving the audience a caffeine rush!
Arjun, nicknamed in filmi circles as Fubu because of his wardrobe full of the clothing brand's oversized collection during his obese days, cringed for a fraction when Karan showed up the picture of Arjun's then plump self, only to recover instantly and do the 'Pehle main bahut mota tha' impersonation of the late-night tv shopping ads. He went on to unabashedly joke about his non-existent under the sheet accounts because of his weight to making up for lost time in that department now. This was followed up by Ranveer's hysterical narration of his time working at Starbucks in America, where he would try to charm girls by doing the corny Indian accent like Apu from The Simpsons because they found it very "exhautic" and "dreamay".
The USP of the episode was that the two maintained an honest stand without sounding like a PR-scripted act, alternating between wisecracks and resorting to a mellow mature approach when demanded. When asked whether his parent's separation was a demon he fights, Arjun responded in affirmative and spoke how his mother (the late Mona Kapoor) taught him to be respectful of everybody. "The complications that your personal life brings because of the baggage that is carried for so many years, in terms of my father, his separation with my mother", he said. In similar tones, describing his constant happy behavior, Ranveer said that he was a people pleaser and even when he did get low, he does not like to display it. "There's some keeda in me that says everybody must smile and laugh. I just want to put a smile on someone's face. That's my whole thing."
Also we loved that the episode steered clear of film promotion, knife twisting, name-calling or taking digs at past, present, ex-factors, contemporaries etc. So refreshing was the Gunday co-stars honest camaraderie and non-fuss self-deprecatory humor, it could very serve as a case study on talk shows. It also left the usually in-control host coercing them to 'sign and leave', confessing that the 'talent ke vulkaynoes' had him feeling like he's been hit by a truck of red bull, much to the guffawing duo signing off with an assertion that it would take years to top this off. Well, we for one are going to have a keen eye watch out for that, but kudos to the dynamic duo for keeping it real. It effortlessly trumped its way to our season's favorite episode.
Top quotes from the episode:
When asked to choose between Food or Sex – "I think I've eaten enough for 27 years…" – Arjun Kapoor
(on Aditya Chopra being scandalized watching their revelations and retarded behavior on the show)- "I think he's made peace with it. Mere do anmol ratan aise hi hai. I think maybe that's why he's got other actors on board" – Arjun Kapoor
(on equation with Ranbir Kapoor) – Ranbir is a bit strong silent type. He does not smile much. Only when we have partied hard together that's when I see another side to him, otherwise he is reserved. – Ranveer Singh
(on his relationship with father Boney Kapoor) – "I always ask him, do you wake up in the morning happy? And if you are, then it's fine. We'll deal with it, one day at a time." – Arjun Kapoor.