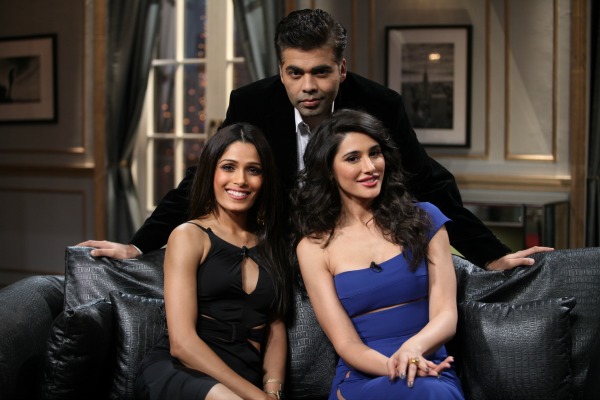 From mainstream to parallel cinema, Koffee with Karan Season 4 has brought to us all kinds of people, stories and a lot more than just film talk. This episode made the line-up of the season even more interesting as the gorgeous ladies Freida Pinto and Nargis Fakhri talked about cross cultural stereotypes, filmy perceptions and everything fun!
Freida's start with Slumdog Millionaire was a roaring success, and she is soaring high internationally since. She said that it obviously feels awesome, but at heart she is still the Mumbai girl who grew up watching Bollywood. "I was at an award function where I was presenting with Shah Rukh Khan. In that room full of people, I was looking for him. It shows that my roots are here in Mumbai. I felt so proud that after just one film I get to share the stage with him!" she exclaimed. Apparently, Freida's debut was going to be Chak De India, but she felt she wasn't strong enough. "It was so much training and I am not a sports person that way. It didn't work out," she said. On her 4 year old relationship with Dev Patel who is 6 years younger to her, she said that things are great between them. "Yes, it is all stable and good but that doesn't mean we are getting married! We both have a long way to go," she smiled. Freida has done a sizzling music video with Bruno Mars, where she is donning a bikini. "I can make a very clear distinction between my job and my reality. I think every person should be in touch with their sexual side, embracing your feminine side. It is who you are! Bruno and Dev both convinced me to do it. What I loved about the video is that Isabella (me) in the video is an empowered stripper who gets to burn his guitar. It's awesome!"
Nargis Fakhri is one straightforward and entertaining girl! Right from her entry with "Thank you for having me. I'm coming" to her revelations about her past, getting into Bollywood and to her rapid fire, everything makes you grin. "I grew up in a really bad neighbourhood where I saw people die with drug overdose, AIDS and what not. My goal was to get out of there and I always knew I wanted to travel. When people praised my looks, I realised that modelling would mean travelling and working which would be the ideal thing to do!" she said. Both Freida and Nargis spoke about the dating culture in India, which is different from the West. "I have guy friends who are very hot, but they are my friends. Here if you try to befriend someone and they try to come on to you, it is difficult to explain that all I want is to just be friends," said Nargis and Freida added, "I totally put myself in that category too. In the West, it is easier to tell someone to back off," she grinned.
Their rapid fire was indeed all flames! According to Nargis, if someone says they don't have time for a relationship, they mean "I'm sleeping with everyone," 3 things we don't know about her is that she is goofy, she loves telling dirty jokes and she is saving up to buy a farm in New Zealand. She will kill to see Ranbir and John hook up and she would marry Uday. The cheesiest pick up line used on her is, "Girl, are you tired? Coz you have been running in my mind all day!" (Yes. Eww). The strangest rumour she has ever heard is that she is waiting to turn lesbian and her gay encounter would be with Priyanka Chopra. She rates herself 2 on 10 as a Bollywood actress, 7 as a dancer, 6 for sex appeal and 20 as a girlfriend (Uday, can we confirm this?). She thinks Ranbir is a gossip queen and a mama's boy.
Coming to Freida, she would do an item song in K Jo's film and if she wrote a matrimony ad it would say "Willing to marry anyone who is not looking for a fair, light eyed virgin." When someone says Hollywood doesn't interest them, it means they want to win an Oscar. Men find her sexy because she is, she finds Ranbir very sexy in Bollywood and in that context, she would like to do Sheila Ki Jawaani to have a 'Kat' fight. She will gift 50 Shades of Grey to Deepika Padukone while she gets 'busy' with Nargis and Dippy would win an IQ tes amongst other actresses. She doesn't want Dev Patel to act opposite Nargis and Deepika as he finds them both too sexy.  They both put up an equally good and extremely entertaining fight. K Jo had to give it to both of them! Their GQ round was adorable as Freida kept winning and at the same time, she kept trying to pull Nargis up by mouthing answers to her and eventually Nargis won the round!
This episode was low on mainstream filmy attitude and very liberating as the two beautiful women shared a brilliant and warm chemistry making it awesome and involving to watch them. Nargis and Freida, we are sure there is going to be a girl bonding spa trip after this!
BEST QUOTES:
"Rejections here didn't break me, I just realised I have to wait for the right thing."- Freida Pinto
"Dev is way beyond his age in terms of maturity."- Freida Pinto
"The main goal of my life was to get the hell out of where I was."- Nargis Fakhri
"We could be misread if we are too friendly with men in India."- Freida Pinto
"The way my name sounds in Spanish, it means butt cheeks. I have introduced myself as 'Butt Cheeks' a lot of times."- Nargis Fakhri.
"Music videos are for the West what item numbers are here."- Freida Pinto.