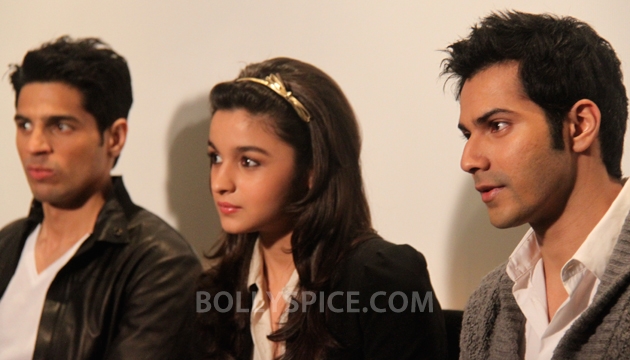 Karan Johar's upcoming Student of the Year features three fresh newcomers in the lead roles. Two come from film backgrounds Alia Bhatt, who is the daughter of writer-director Mahesh Bhatt and Varun Dhawan, who is the son of director David Dhawan. Their co-star is model turned actor Siddharth Malhotra, who is completely new to the film world.
Karan brought Alia (AB), Varun (VD) and Siddharth (SM) to London ahead of the films release to introduce his rising stars to the world and to this great city. Despite the miserable weather and cold they had picked up, BollySpice managed to give a very warm welcome to the young actors.
This film is a dream debut for you all, what are your thoughts ahead of the release?
AB: A few years ago I did a marathon viewing of Karan Johar films. I then turned to my sister and said Karan Johar does not launch new comers does he? To which she replied "no he only works with movie stars". Nineteen days ahead of the films release, here I am! So it has been a great experience and at the moment we are so nervous!
SM: None of us thought we would get this chance and we may not ever again. It will be very stupid if we spoil it for ourselves. We are extremely lucky. Karan put his money where his mouth is, everyone says they want to work with new actors but usually do not.
VD: It is something I could never have dreamed of. The canvas and to be launched by such a film maker in your first film is unbelievable. I just hope we can live up to it.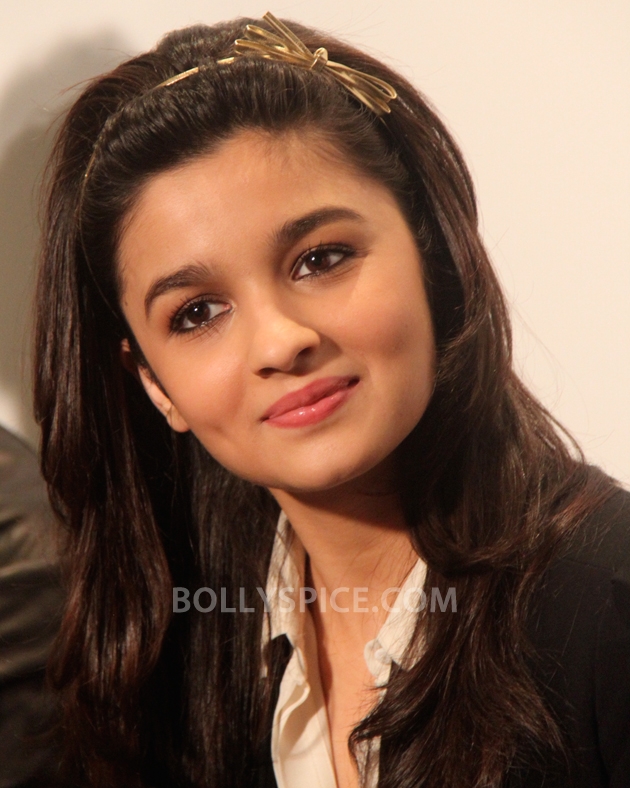 How did you all end up with your roles?
AB: I was basically at school and was called in to meet Karan. I was three times my size then and he just asked me to do an audition. I danced to Bahara Bahara (I Hate Luv Stories) and a week two later Karan called me and said that I needed to lose some weight if I wanted to do this film. I did not know then that he was directing it. I just knew that there were two boys in the film. About three months later and sixteen kilos lighter, we were doing a photoshoot and Karan saw me in a shot with the boys and said – that's my cast!
SM: Varun and I were assistant directors to Karan (My Name Is Khan) and we used to stand in for Shah Rukh and Kajol for shot set ups. That is where Karan saw us on the monitor and considered whether we would be good in front of the camera in the future. After the film he called us for an audition. We did not initially know he would direct the film, but after seeing the photo shoots he ended up directing it!
VD: Exactly the same process for me as Siddharth, first assisting Karan and now being directed by him.
Could you tell us a bit about the characters you are playing the film?
AB: I play Shanaya Singhania. She comes from an affluent family. She loves her clothes, her shoes and her bags. Getting ready in the morning is the highlight of her day. She comes from a bit of dysfunctional family as well, so she does tend to get a bit lonely, but she basically wants a person who can love her unconditionally.
SM: I play Abhimanyu Singh. He is the new guy in school. He is on a scholarship. He is an athlete. He is very ambitious and focused. He wants to win the 'Student of the year' competition. He meets and befriends all the main characters. His issues with them and how he resolves them, is what he goes through in the film.
VD: I play Rohan Nanda. My father in the film is a multi-millionaire tycoon and I do not see eye to eye with him. Rohan has always been more inclined towards music and more towards sport and does not pay that much attention to towards his studies. He happens to meet Siddharth's character and then it is about how his life changes for the better or worse.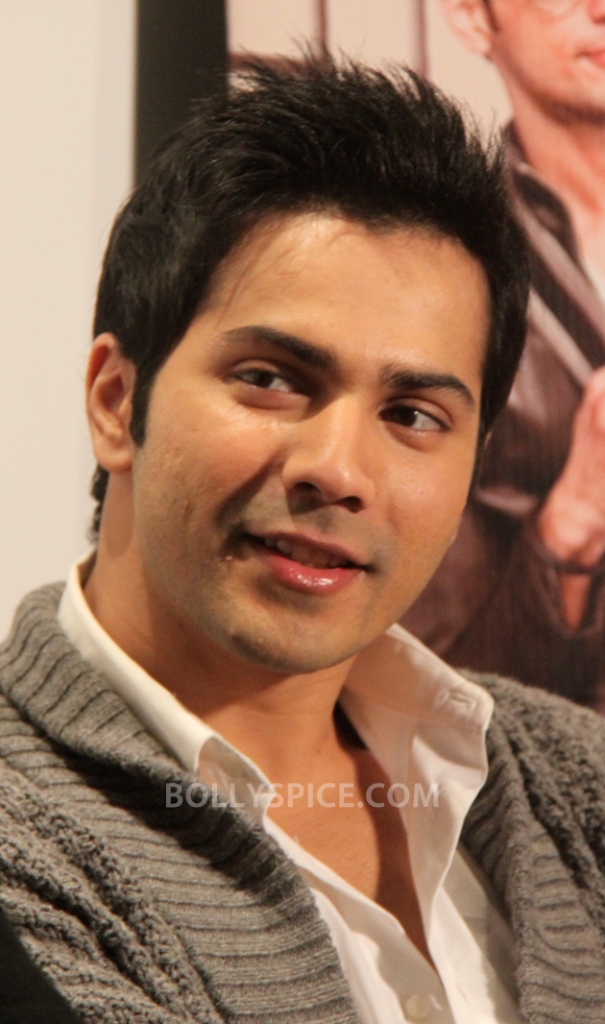 As friendship is such a big part of the story, how well did you get on with each other during the film?
AB: For me initially I was very nervous. But now both of them are such special boys to me and I don't think I'll ever have that fondness for anybody. It is special, as it is our first film.
SM: Since I Varun and I were assistant directors together we were training for this film from then. We travelled to the States together and stayed in the same apartment together. We have even been scolded by the first assistant director together. We have gone through the whole 'beats' together and I think that has helped us a lot for Student of the Year.
What kind of students were you at college and any similarities with your characters in the film?
AB: For me I just passed out of school and then we started this film. So it was like a trip down memory lane for me. But of course none of us dressed like this at school, especially me. I did not know what heels were until I started shooting!
SM: I was a really bad student, but I did not go to a school like this at all. The facade is not real, but the relationships were. There was a lot of competition – especially around studying.
VD: I have always loved the films and even when I was at college a song would always be playing in my head. But even in my dreams I never imagined a school like this, so when you see the film you will think wow – that's a Karan Johar school!
What's your favorite Karan Johar film:
AB: Kuch Kuch Hota Hai
SM: Kuch Kuch Hota Hai!
VD: Kuch Kuch Hota Hai!!
A question for each of you: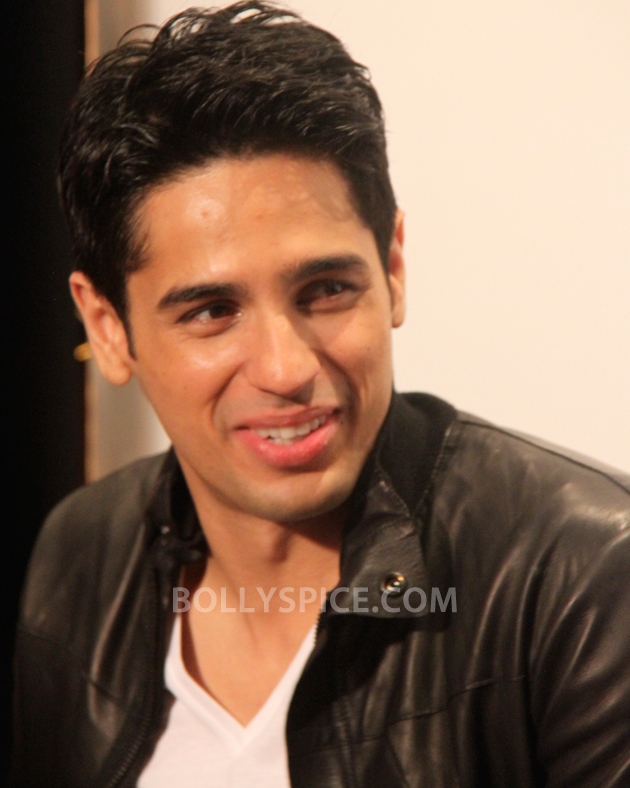 Alia – The Bhatt family has a particular approach to films and a successful brand, which is different from Dharma Productions. What advice did you receive from your family and how different is this experience to the films your family makes?
I was not really ever involved in my father's films. I would watch his films much like I would watch any other films. With regards to advice, during the filming he left me on my own, so that I could learn from my own mistakes. I had no experience of acting previously and I was so raw that I was learning at every step. The advice he gave me generally was that the best way to be a part of the film industry is to not be a part of the film industry. He always tells me not to lose myself in the crowd, not to drain all my energy and not to smile too much!
And your favorite film by your father?
Zakhm
Varun – Your father is the King of Comedy, again with a very different style of cinema, so how does this compare to working with Karan Johar?
I come from a family where my father makes films. Every film has a story of its own and every director has his own vision and I have been a big fan of Karan. My brother is an even bigger diehard fan of Karan. I have grown up on Karan's films equally. The only thing I know with my dad being a director is that every film comes with a script, story and character of it's own. So today we are competing on a global level, so you go in and you play your character best you can and are there to entertain the audience. Just because this is my first film I do not think the audience will be so forgiving. I just hope that people like it.
Siddharth – There have been quite a few unconventional launches for young actors (Company, Ishaqzaade) so how does this compare for you as a launch pad? If you had a chance for a different type of launch, what would you choose?
This is a dream launch. W are better off with this launch. It is not entirely glossy and fun, it also has an emotional grain in the film. So far you all have only seen the songs, so you don't really see it, but I'm sure when 19th October comes you will realise that it is not all fun and games. We feel very privileged and lucky and I think it is one of the best launches that anyone has had in the history of Bollywood.
Student of the Year releases worldwide on 19th October. Make sure you check out our exclusive video on our YouTube channel.