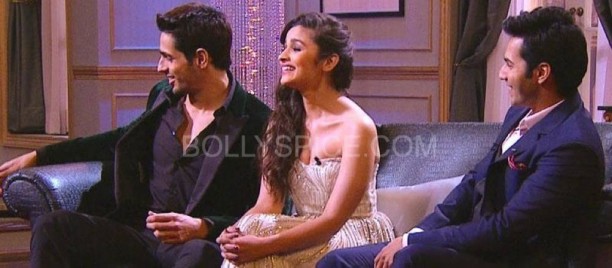 Four episodes down, Season 4 of Koffee with Karan is getting steaming hot, one candid celeb at a time. Karan being unabashed and direct with his questions or rather statements this season; has his guests spilling beans over a cuppa coffee much to its viewers' delight. In the upcoming weekend show, it's the turn of the Students of 2012 – Alia Bhatt, Varun Dhawan and Sidharth Malhotra to grace the koffee couch. And while this will be the second appearance for the trio on the show, the first time was more about their then releasing film promotion. If the sneak peak we got is anything to go by, round two has a lot more talk brewing than just ishq wala love.
When Alia is quizzed on who is a better kisser and who has a better bum between Varun and Sidharth, Alia said that she had only kissed Sidharth (and she's hopefully referring to *just* the movie here) but quite assuredly announced that Varun had a better bum, with Sidharth nodding in agreement.
Tune in on Star World this Sunday to see if the SOTY trio make this THE koffee episode of the year! Meanwhile here are some snippets from the episode.
Varun (on his current love-life status) – "I like somebody a lot, let me just put it like that."
(In reference to Alia's love life) Karan – "Alia what about you, before you came onto the sets of Student of the Year, Varun says that you had a string of young boyfriends."
Alia – "I wouldn't call it a string but I did have serious relationships like 2 years, 2 years …..I started dating in the 6th standard. That wasn't really dating. We'd used to just smile at each other from across the classroom. I actually had my first boyfriend in the 10th standard."
Karan- "that was your serious relationship?"
Alia – "I dated him for 2 years."
Karan – "You dropped him when you became a movie-star" 
Alia – "No, he dropped me."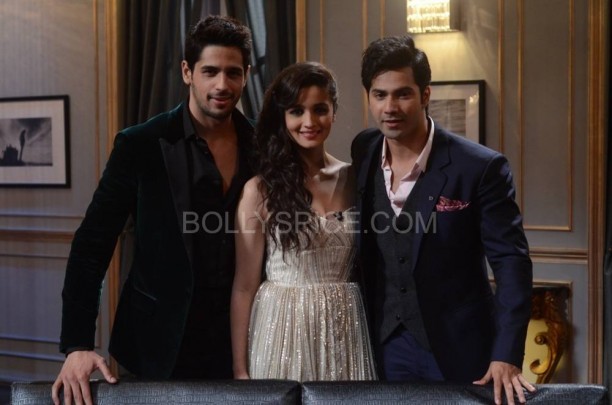 Sidharth (on his current love-life status) – "I'm single"
Karan -"Your current status is you're single. But you had a long-term relationship with somebody, quite long. We did some kind of scooping and found some images of a girl you dated. She's a South African model and her name is Nicole Mayor. " [Karan shows a photo]
Alia – "She's very good looking"
Karan – "So what happened, why did you'll break up?"
Sid – "Nothing ya, we were dating. But I think it was the distance. She's not from here. So I think distance, she's gone back."
 
Alia speaks on her father, Mahesh Bhatt
 
Karan, "Though you come from the movies, Alia. Nepotism may not necessarily apply to you, because your father [Mahesh Bhatt] is a hatke kind of a person in a diplomatic manner. He's a very unusual man. He's not the quintessential film-father. Describe to me what makes him different."
Alia – "I think what makes him different is that he calls himself mad. The reason, probably, all of us have our own opinions and we're sane is because he didn't put any boundaries of sanity. He let us be insane because he is insane himself. I think it's like watching some 500 different TV show every day when you're listening to him talk."
Karan – "what is the last fun quote he said to you? Give me a Mahesh Bhatt quote. What does it sound like to his daughter?"
Alia – "He once said to me that, "You're so consumed in yourself that you will be your own doom."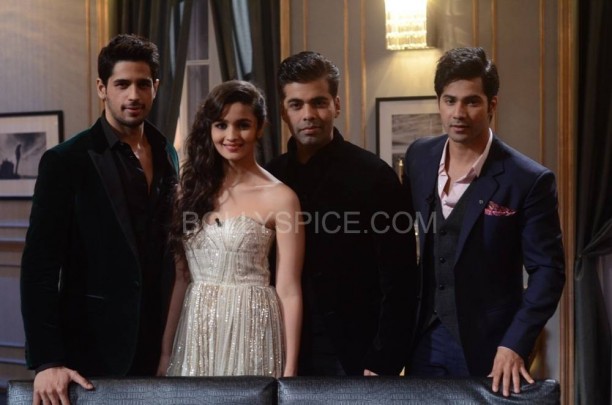 The Rapid Fire Round:
 
Karan- What is the most exciting rumor you've heard about yourself?
Alia – That I am Mahesh Bhatt and Pooja Bhatt's daughter.
 
Karan – if you woke up one day and found Sunny Leone in your bed what would you do?
Sid – Have breakfast, Sunny side up
 
Karan – Who is the president of India?
Varun – Manmohan Singh
Alia – Prithviraj Chauhan
Sid – Pranab Mukherjee