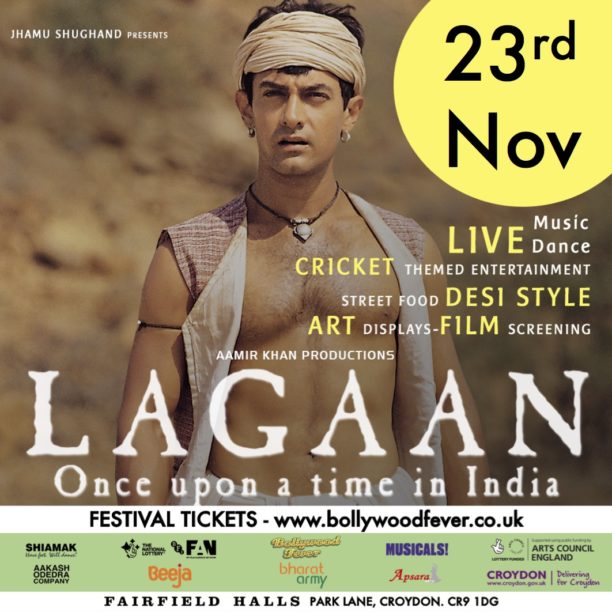 The fabulous UK festival Bollywood Fever will be screening a very special film at south London's largest arts centre Fairfield Halls on Saturday 23rd November. Bollywood Fever is returning to the capital for its fifth outing and guests are invited to embark on an a very special immersive film experience. Bollywood Fever 2019 will host and present the Oscar-nominated 'LAGAAN: Once upon a time in India'.
Following the hugely successful 2018 festival that saw over 4,000 strong film lovers descend to Birmingham for screenings of the legendary Bollywood cult classic Sholay, the 2019 edition will prove to be the biggest screening of Lagaan to have taken place in the UK. The event will see the venue transformed to create an immersive treat that captures the essence of Bollywood through live music, dance, food and entertainment. As a special addition the screening will also showcase a live dance performance choreographed by the award winning Aakash Odedra Company.
When released 18 years ago, Lagaan achieved legendary status by becoming a box-office hit all over the world. Set in India in 1893, it combines sport with political intrigue, romance with evil scheming, musical numbers with low comedy and high drama. Starring Aamir Khan alongside a star-studded Indian and British cast, the film revolves around a cricket match between the British cantonment and a group of villagers. It tells the tale of a revolt led by Bhuvan (Aamir Khan) arising from a challenge by a British officer, played by Paul Blackthorne, to beat his garrison at cricket or pay double lagaan – "tax" in Hindi – on their produce.
In addition to its many awards and accolades, the film has been named one of the best sports films of the century by Time magazine. Many believes that Lagaan, directed by Ashutosh Gowariker, has the "capability to win over Bollywood newcomers – to turn snickers into smiles, indulgence to rapture".
Bollywood Fever's Reshma says. "Lagaan is a timeless film where even after 18 years it still evokes excitement and special memories. There are very few movies that have the ability to cut across age, gender, language and culture like Lagaan does and bring people together. Coupled with this, we saw the excitement from the ICC Cricket World Cup held in the U.K over the summer. Securing the exclusive theatrical rights for such an iconic movie will draw in not only fans of Hindi cinema, but also sports enthusiasts alike. To celebrate the 18th anniversary of the film, Bollywood Fever is also excited to be teaming up with the Official No.1 Indian Cricket Supporters Group the Bharat Army. The partnership will see everyone purchasing a ticket being entered into a prize draw to win one of six tickets to next year's 2020 ICC T20 World Cup final taking place in Melbourne, Australia".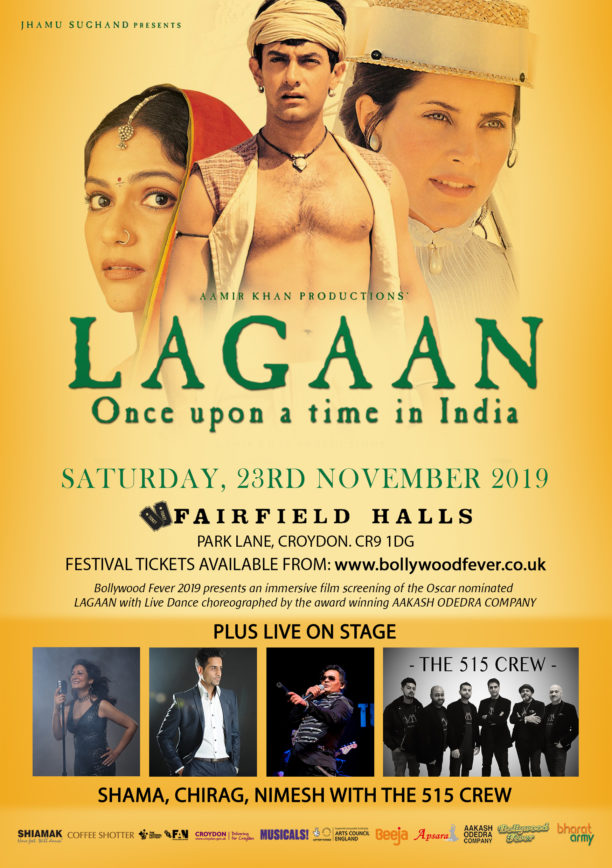 Not only is there going to be the special screeing, Bollywood Fever has created a day of fun and entertainment, which includes a pre-screening live concert featuring fan favourites Shama, Chirag Rao, Nimesh Sanghoi and The 515 Crew. With this musical extravaganza alongside bringing the movie back to the big screen, the event will unite sport lovers with fans of high-brow drama, appealing to families and a diverse audience across the spectrum.
The festival begins at 4pm GMT with the screening at 7pm. Tickets for Bollywood Fever are now on sale and are available from www.bollywoodfever.co.uk
Bollywood Fever is sponsored by Cellar Door and are proud to welcome the Bharat Army and Sunrise Radio as Official Media Partners. The festival is supported by Croydon Council and Arts Council England, in conjunction with funds from the National Lottery. Screening as part of BFI Musicals! The Greatest Show on Screen, a UK-wide film season supported by National Lottery, BFI Film Audience Network and ICO. bfimusicals.co.uk.