Fashionistas are gearing up for another season of the LAKME FASHION WEEK Winter/Festive 2012 scheduled to take place in Mumbai August 3 to August 7, 2012. All set to bring new energy to the runway and maintain its leadership in promoting the Business of Fashion, Lakmé Fashion Week held a press conference to announce and introduce the lineup of their 86 designers and 10 sponsors participating in the upcoming season. Unlike past season which saw established designers like Rohit Bal closing the finale, for the first time this year will see fashion visionaries Kallol Datta and Pankaj & Nidhi as the grand finale designers. They will interpret the 'Lakmé Absolute' collection for the Lakmé Grand Finale. In addition, Winter/Festive 2012 will bring industry doyen Pallavi Jaikishan for the first time on the LFW runway alongside other industry stalwarts like Wendell Rodricks, Neeta Lulla, Anita Dongre, Krishna Mehta and Ritu Beri.
The Gen Next program, which completes 7 years this season, having encouraged debutantes and nurtured some of the leading names in the industry today will see renowned designer and stylist Aki Narula  continue to mentor the Gen Next program. This season, 7 new designers from across the country will showcase their debut collections.
LFW TV will continue to live stream shows from LFW Winter/Festive 2012, allowing potential buyers, sponsors and fashion enthusiasts, to gain real time access to shows, behind the scenes action, exclusive interviews, and parties and much more into India's premier fashion trade platform. Tune in on www.lfwtv.in
Present at the occasion, Purnima Lamba, Head-Innovations Lakmé said, "Lakmé's finale designers are hand-picked for being fashion visionaries – a reflection of our commitment to forecast the future of fashion. The beauty business works hand in hand with trends in fashion and Lakmé Fashion Week showcases the creative flourish of established and emerging designers. The Lakmé grand finale is the pinnacle fashion statement of the season and we work closely with the designers to inspire a collection for fashion-conscious women across India. I am very excited to see the re-interpretation of the Lakmé Absolute collection – with a fresh creative perspective by Kallol and Pankaj-Nidhi."
With the list of designers confirmed for the event, everyone is intrigued to know more about which of the Bollywood actresses would walk the ramp for the favorite designers. While the team at LFW is tight-lipped, it's just few days before we find out more. Keep reading this space.
Designers for Lakmé Fashion Week Winter/Festive 2012
Lakmé Fashion Week Winter/Festive 2012 Designers

Aartivijay Gupta

Pallavi Jaikishan

Aastha Bahl

Pankaj & Nidhi

Abhi Singh

Payal Kapoor

Abhishek Dutta

Payal Khandwala

Amrita Thakur

Payal Singhal

Anita Dongre

Pernia Qureshi

Anushka Khanna

Pia Pauro

Archana Kochhar

Pooja Kapoor

Atithi Gupta

Pranav Mishra & Shyma Shetty

Babita Malkani

Prashant Chauhan

Bhairavi Jaikishan

Priyadarshini Rao

Debarun Mukherjee

Rajat Tangri

Deepika Govind

Ritika Bharwani

Drashta Sarvaiya

Ritu Beri

Gaurang Shah

Roma Narsinghani

Isabelle Mittal

Ruchika Sachdeva

Isha Dangwar & Priyanka Rai

Sailex Ngairangbam

Isha Kedia & Deepak Goswami

Sanchita Ajjampur

Jatin Varma

Sandhya Garg

Kallol Datta

Sapna Bhavnani & Sukriti Grover

Kapil & Mmonika Arora

Shivan & Narresh

Karishma Shahani -Khan

Shradha Murarka

Ken Ferns

Shruti  Sancheti

Khushboo Agarwal & Prem Kumar

Shyamal & Bhumika Shodhan

Komal Sood

Siddharth Arya

Krishna Mehta

Sonaakshi Raaj

Mayank Anand & Shraddha Nigam

Sougat Paul

Meera and Rohit Aggarwal

Surya Sarkar

Nandita Thirani

Swapnil Shinde

Neeta Lulla

Swati Jain

Nikhil Thampi

Tanya Sharma

Nimish Shah

Vaishali Shadangule

Nishka Lulla

Wendell Rodricks

Nupur Kanoi

Yogesh Chaudhary

Accessory Designers

Felix Bendish

Nivedita Mukherjee & Swarup

Jyoti Kant

Rohan Arora

Kaabia and Sasha Grewal

Sannam Chopra

Mehak Gupta

Sourabh Kant Shrivastava

Neha Sharma

Vasundhara Mantri

Nitya Arora

Gen Next Designers

Aniket Satam

Mehak Pruthi,Kanika Seth and Ankit Sharma

Asa Kazingmei

Richa Aggarwal

Astha Sethi and Sidharth Arora

Sneha Arora

Kavita Sharma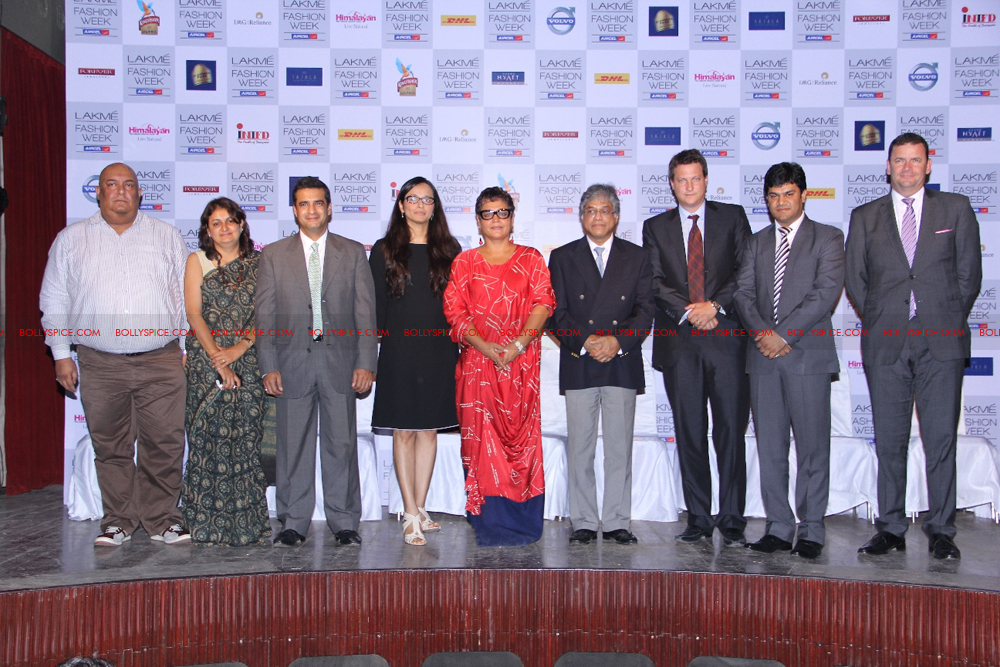 For the pic: Present at the Press Conference, standing L to R in the picture were Anil Khosla- CEO NIFD ltd; Mrs. Dhruti Sankpal- Vice Chairperson, Sankpal Realty; Chandrashekhar Pitre- Senior Director Marketing, South Asia DHL ;Purnima Lamba – Head Innovations -Lakme, Anjana Sharma, Director-Fashion, IMG Reliance; Pradeep Poddar – Managing Director and CEO, Mount Everest Mineral Water; Mr. Tomas Ernberg – Managing Director, Volvo Auto India; Amit Bandi, General Manager – Retail Operations, Forever Jewellery and  Mr. David Mansfield Area Director- Mumbai, Pune & Goa General Manager, Grand Hyatt Mumbai.