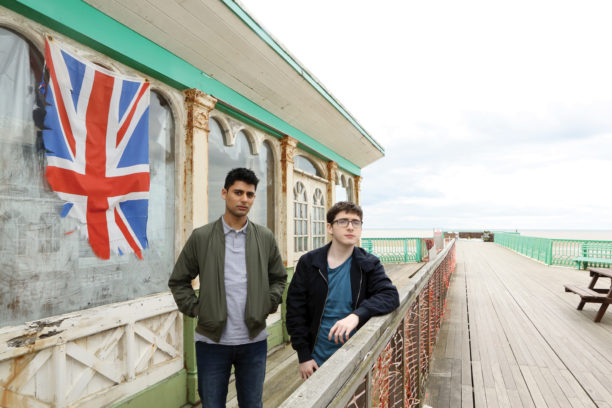 After the death of their beloved Gran (Stephanie Fayerman), two half-brothers, Omar (Antonio Aakeel) and Pete (Jack Carroll) set off for Blackpool in order to find Omar's long-missing father. Omar was, as Gran points out, the result of a "youthful dalliance" between his mother and a desi man she met on a night out, and whom she never saw again. And although Gran previously said she knew little more than that, she leaves Omar a letter that tells him more of what she really knew about his father. Armed with his birth certificate, his mother's diary, and a photograph taken on the fateful evening, and with his grandmother's urn and his disabled brother in tow, Omar decides it's time to finally find out who his father really is.
Director and co-writer (along with David Isaac) Jason Wingard first explored this theme in his 2014 short film Going to Mecca. Though that film was, in some way, more of a showcase for the considerable talents of young British stand-up comedian Jack Carroll (who was paired with actor Aqib Khan in the role of Omar), it nevertheless set the stage for Eaten by Lions.
What lay at the core of Going to Mecca was the relationship between the two brothers, Omar and Pete; In Eaten by Lions, this relationship is expanded and strengthened, but still remains the most important thing about Wingard's film. Their grandmother tells them a story about a dog and a wolf – which has the two brothers arguing about who should be which animal, missing Gran's point that what is important is that the two of them look after each other. Which is why, when Omar decides he needs to go find his father, his initial reaction is to leave Pete behind, thinking the trip would be too much for him. Pete, of course, assumes Omar is thinking of going to India; Omar's revelation that his father lives in Blackpool has Pete insisting on coming along, and thank goodness he does, because the two brothers are perfect foils for each other and perfect supports as they head to the seaside vacation spot and meet a cast of characters on their way.
There's the traditional Blackpool pier fortune-teller (Tom Binns, reprising his role from the short), unable to actually tell a fortune without lots of hints and prompting from Pete – though he's the one who provides Omar with an address for his father. Amy (Sarah Hoare), a young woman with hair the colour of cotton candy whom Omar meets whilst fetching ice cream, rescues the two brothers when their suitcase goes out with the tide, taking them to stay at the Castle Del Ray run by, fittingly, her Uncle Ray (Johnny Vegas).
Then there's Omar's father's family. Omar and Pete arrive at their house on the day of the engagement of one of the daughters, and the two face an entire extended family gathered at the house. In yet another addition to the comedy of errors, it turns out that the man Omar thinks is his father is, in fact his uncle. His actual father, Irfan, (Asim Chaudhry) used his brother's name when he met up with Omar's mother, and Irfan is the farthest thing from a stable father-figure that you will find, given to toddler-like temper tanrums and an absolute inability to take any responsibility for his actions.
Eaten by Lions drips with dry wit and absurd humour – again, much of it out of the mouth of Pete, but the full-length version of the story allows Wingard to introduce all those smaller characters that reflect the local colour and charm of Blackpool. These aren't mere cameos for the sake of landing the (many) jokes that are scattered through the film; these characters give some comic beats to counter the more serious moments, but, more importantly, they allow for the focus to be placed squarely on the two brothers at the centre of this odd little journey of discovery. The theme of family — mixed, blended, reconstituted, extended, crazy, all with their combination of love and concern as well as the messiness they represent – wends its way through the film as Omar comes to terms with what finding his father really means, and as Irfan learns, in his own way, to bring his son into his life and that of his family.
"What's the point of coming to Blackpool if you can't have fun," one of the characters, Parveen (Natalie Davies), tells Pete. The Blackpool of Eaten By Lions is, quite honestly, as sweet and colourful as the rock candy it's famous for, and the film is filled with the humour and warmth of messy, sprawling relationships. Life for Omar and Pete isn't perfect, but together, carrying the lessons of their beloved Gran with them, they can learn to carry on and look out for each other, just like the storied Dog and Wolf.