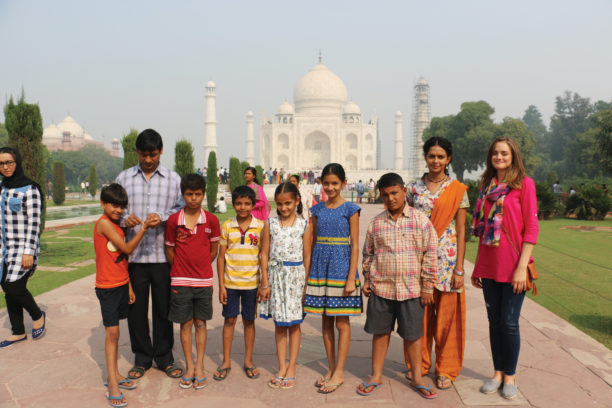 In the village of Bajjar, Uttar Pradesh, not far from Agra where the Taj Mahal sits in splendour and attracts millions of visitors (both from India and abroad) every year, Bansi (Subrat Dutta), an illiterate man, decides to hatch a plan in order to educate the village children. Bansi, we are told, feels personally responsible for the fact that there is no village school or teacher – the details are left vague at first, but as the film unfolds we discover the truth behind this. But because he feels this way, Bansi works out a plan. He'll take his meagre savings, build a roadside dhaba, and ask customers to pay for their meals not with money, but with their time – Bansi wants them to teach the village children.
Bansi's scheme is met with skepticism by many in the village. His friend, Saneechar (Pitobash), who has moved to the city with dreams of opening his own restaurant, but who, we discover, is really only on staff, scoffs at Bansi's idea – but returns to Bajjar anyway to help out at Bansi's Taj Mahal dhaba. Equally skeptical is local cook Naturam (Manoj Pahwa), who eventually agrees to add cooking at the dhaba alongside his usual wedding catering. Initially, customers are also a little flummoxed by Bansi's idea, many insisting they have no time to give to the dhaba school as they have plans to visit the Taj Mahal, others merely annoyed at Bansi's request that they teach the local children instead of paying for their meals. Bansi finally gets a break when an American tourist, Chris, takes some time to begin teaching the English alphabet to the children. The school gets a further boost when Janet (Ali Faulkner) arrives at the dhaba. Janet has heard the story of the school from Chris, and she decides to stay in Bajjar for a while to teach, as well as doing research for her studies in sociology.
With Janet's presence, the school gains a bit of stability. The children make progress, and classes are even set up to help the illiterate adults of the village learn to read as well. There's even a sweet love story in the making: Bansi, it seems, is interested in marrying Naturam's daughter Chuniya (Bidita Bag). At first, Chuniya insists she wants to marry an educated man; when she realizes Bansi is interested in her, she decides she would settle for getting a love letter from the man who will marry her. Each of them joins the school, both to be able to write that letter, as well as to be able to read it.
But not all is smooth sailing: Janet's visa expires and she must leave the dhaba; the village head – who has been pocketing government money meant to go to running a school that no longer exists in Bajjar – wants the dhaba school shut down, because the government has discovered what's going on and refuses to issue his cheque until it is. Bansi decides to give the children a holiday when he realizes his savings are no longer enough to keep the dhaba afloat – and he's stubborn enough to refuse donations (like the one offered by Raveena Tandon, playing herself in a small cameo) that might help. Further compounding Bansi's troubles is the realization that a similarly named restaurant – complete with A/C and Wi-Fi – is attracting the customers who now pass by his Taj Mahal dhaba, leaving Bansi with no means to re-open the school, and the possibility that he will have to shut his own dhaba down. The village – led by the head's wife, in opposition to her husband – comes up with a plan to improve the dhaba and save the school, but Bansi knows there is no way for them to compete with the fancy restaurant up the road. Instead, he reveals an even more interesting plan, born out of Janet's stay in the village – one that will capitalize on the village's appeal to visitors and allow the villagers to become self-sustaining as well.
Director Kireet Khurana's film is charming and thoughtful in its exploration of the issues of illiteracy and self-sufficiency in rural India. Never preachy, the story is well-written, right down to all the small details. We feel the embarrassment of the whole village, for example, when they're made fun of for their illiteracy and poverty by others, and we understand why Bansi feels so strongly that it's time for Bajjar to change that. Bansi finally writes his love letter to Chuniya, but his dhaba and his plans are, perhaps, his labour of love for the village and his neighbours – as Chris so aptly notes, the dhaba is a testament to a love as large as its namesake.