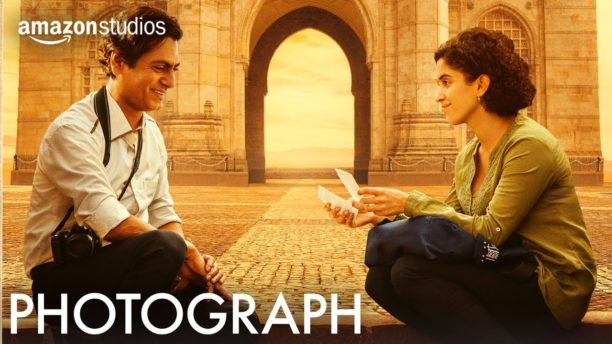 Ritesh Batra broke through with his debut feature The Lunchbox and now he's back with his next Indian-language film "Photograph". Starring Nawazuddin Siddiqui as the romantic lead, the movie follows the life of a villager named Rafi who's come to the big city of Mumbai to earn money for his family as a street photographer. Opposite him is the well-to-do Miloni, played by Sanya Malhotra, who is training to be a chartered accountant.
An unconventional romance very slowly blossoms after they meet in a chance encounter where Rafi takes Miloni's picture, a photograph that captures her in way that she's not seen herself before. Unbeknownst to her, Rafi is under pressure from his family and friends to get married, he's not getting any younger. This is portrayed to great comic effect in several scenes throughout the film and it's this kind of gentle, natural humour that brings a believability and likeability to the characters of Rafi and his social circle.
Rafi takes the drastic step of lying to his family in the village that he has found a girl and not to worry, only to discover that his grandmother (who raised him and his sisters) is now on her way to visit him and check her out. From this point you might expect it to work much like a farce, as Rafi convinces Miloni to pretend to be him love interest, only to discover that in doing so they start to get to know each other in much the same way as any couple meeting for the first time might.
The movie is nicely shot with some moments that you'll actively notice and some which are more subtle, but equally affective. In particular, there's a shot where Miloni walks into her parents' house to discover she entered a potential arranged marriage. The focus of the shot is on her, leaving the talking adults as blurs, wonderfully portraying how the whole conversation is about her but she's disconnected from it and not involved in a choice that will affect her whole future.
Batra described the film at the Q&A as having a fairytale quality, certainly Rafi getting advice from a ghost would back this up, but whether you can suspend your disbelief that two people from such different worlds could be allowed to see each other so much is something only you can judge. The ending is also oblique and comes as a bit of a shock. It's not all nicely tied up, although there are plenty of clues as to how the couple will fare in the future. For me, however, the last scene in some ways negates the purpose of the film. The movie is nicely put together but this last moment in a cinema lobby seems to suggest that this story has been told many times before, lovers from across the tracks. This retelling didn't bring anything vitally new to that genre for me, but maybe it will for you.
Photograph was released in India 15 March, the USA 17 May, and will be coming out in the UK on 2 August.