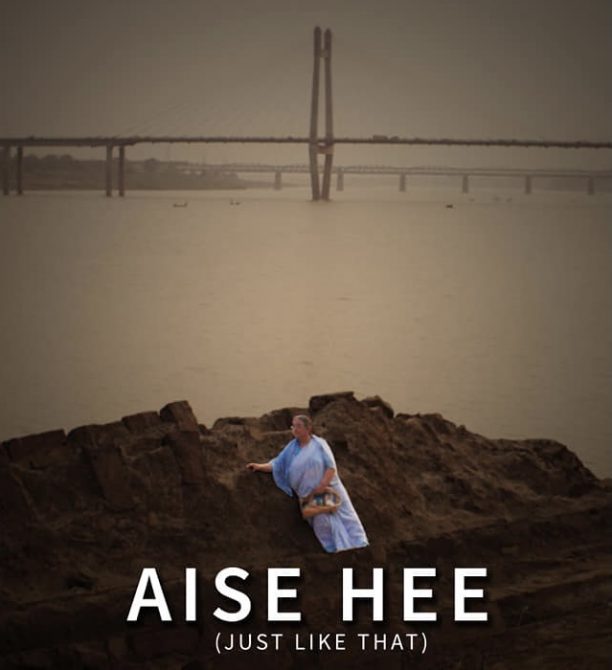 Aise Hee (Just Like That), directed by Kislay is a brilliant film that is quiet, moving, deep, surprising, and in the end, inspiring. It is the tale of an older woman challenging expectations of who she is supposed to be in her later years. Mrs. Sharma is the quiet 'ideal' wife of a government official living in a modest two-story house in the small town of Allahabad. When her husband suddenly dies, she is expected to follow Indian customs and move in with her son and grandchildren, but she has other plans. Mrs. Sharma wants, at long last, to explore her life and try new experiences, including meeting Sugandhi, a hairdresser, and Ali, a tailor who teaches her how to embroider. This soon starts the neighbours gossiping, resulting in family tensions that soon threaten to curtail her newfound freedoms. No spoilers from me! You will have to watch this fabulous movie to find out.

Aise Hee will be screened at the prestigious Bagri London Indian Film Festival on June 29th at the Barbican Center. I was granted a screener and was also honored to be able to discuss the film with the director Kislay in a very special exclusive Q&A for the festival. In this special review, I share my thoughts and also some highlights from that Q&A.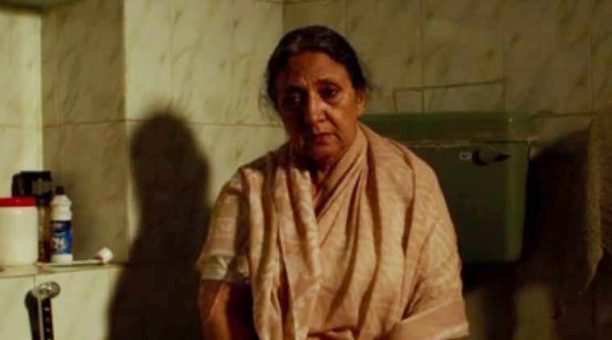 In the Q&A director and writer, Kislay discussed the film and writing the story, "When I started it was about trying to understand this woman who after living her life as a mother and a caregiver, who always kept her thoughts in the background, at one point she decides to start changing things. What I was sure of was that nobody is sure, including herself, why she is changing things in her behavior. So I approached the character from the inside. She is also not sure initially. She is a little bit confused, a little scared of what people will think. Slowly and slowly she becomes sure of the things she is doing and what is the big deal." Aisa Hee…


In portraying Kislay's Mrs. Sharma, Mohini Sharma is perfectly the character he imagined. She is absolutely incredible. From the very first scene where she escapes for some quiet, you see everything she is feeling in her eyes. As she discovers a new world and finds herself in this new existence you are completely involved and rooting for her. From her sadness, to her confusion, to her still having a foot in the door of tradition, to her coming alive you never feel as if she is Mrs. Sharma the character, she just is. Her change to a new way of life not only in delivery but in just the light and peace in her face and life in her eyes is brilliant.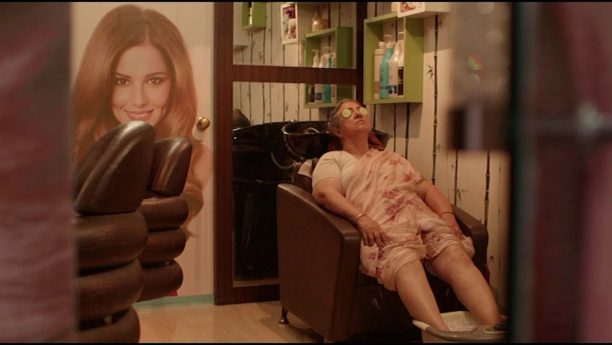 It does focus on Mrs. Sharma and her journey. However, that is not all. It is not just a character-driven film, it is an ensemble piece. Director Kislay brings his tale to life, through quiet moments, and small scenes that create a big impact. Each character in Mrs. Sharma's world from her family, to the people she meets and befriends, have their own voices, their own story to tell, and that is what makes it so surprising and so incredible. You see it from all the character's viewpoints, thoughts and impressions so it is everyone's story, not just her story. Even with the dialog, which is at times sparse, you know what the characters are saying and not saying. You know the lives they lead and the frustrations they feel. With all those stories and all their individual performances, what is so incredible is that you are never taken out of the story at any moment and that is a hallmark of an accomplished director. As a debut film, it is outstanding and makes you eager to see what this young director will bring to the world of cinema in the future. Bravo!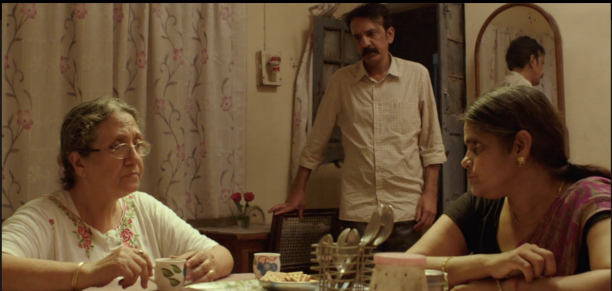 Every single cast member's performance is marvelous. Harish Khanna as the son Virendra is outstanding. From the quiet desperation, to the anger and frustration, to wanting more he is Virendra in all of his moods and moments. As his wife Sonia, Sadhna Singh, is a quiet presence but speaks so loudly. In every scene, she really was controlled but you felt her. It was a stellar performance and one of my favorite in the piece. Shiram Sharma plays the grandson Vicky and there are some moments in which the look on his face and in his eyes tells the tale and you feel his anger, his shame, and his feeling as if he is right. It is an excellent piece of acting. Sugandhi played by Trimala Adhikari, and Mohammed Iqbal's Ali were also superb. Bravo and Brava!  

The film touches on not only the Indian custom of the mother moving in with the family, but Kislay also brought in another very important layer. So many of the characters have prejudices that come out in surprising, sometimes shocking ways. Mrs. Sharma to Sugandhi, Sugandhi to a job, Ali, the tailor to his niece, the brother to the sister…it all creates more depth and realness to the world. It is another bravo and brava to the director and the actors. It touches on the insecurity, the anger, the frustration, the unhappiness of the characters in the film. Interestingly, the film is based on a short story by German playwright and author Bertolt Brecht. Kislay studied and read many of his plays in school and in his theater days and one of the many things, he said, that stuck with him is the theory of presenting complex, real characters. As Kislay said in talking about the prejudices, Brecht wanted that break in the character so you take a step back. "That is how life is. That is the pressure of taking the audience on the journey. You don't want at every point for the audience to relate exclusively to someone. Then you can create complex characters. They all have prejudices. They all have their issues." Adding for Aise Hee, "I did not want the audience to think of the other characters as the villainous ones and Mrs. Sharma as the good progressive character. The one everyone is cheering for. She can only grow so much. That is not life."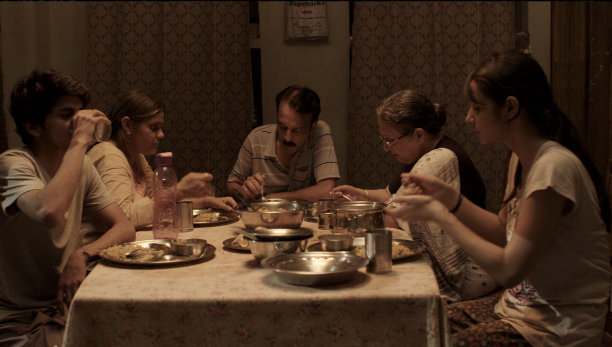 Kislay also spoke about the long wide shots that did not focus on one character but on the reactions not the 'acting' of the actors, which he felt was very important to tell this story. That gave an interesting pitch to the story and insight into each person's life. It really made the film more true. 


The city of Allahabad is another character in the film. Kislay revealed as he was writing and making the film the city was going through changes of staying traditional but also reflecting a new way. Much like Ms. Sharma. Through interesting camera angles, long shots, and just the entire mise en scène of the film he adds another depth to the film. "Initially, I didn't intend to shoot in Allahabad, I had a different city in mind but slowly I could feel that the city was changing. The city became a part of the film."
Along with the shots of the city, there are several unique shots including the mall moments, the river scenes, even just to her changing her sheets to be more vibrant, these looks into the story, even without dialog, added to the piece. However, there is one moment that still stays with me, at one moment Sugandhi asks Mrs. Sharma to close her eyes and Kislay had the screen go black, so you could think your own thoughts and wishes and wonder what they were wishing. It was such an incredible way to add something to this already fabulous film.



I completely got lost in the film. Not just watching and flowing with a story, I was in the journey with them all. I wanted to experience the stories but also get to the end to find out what happened. I was so involved within the journey that in the end, I took a deep breath and then cheered. Then I immediately wanted to watch it again.


It is an outstanding, beautiful film, that I still think of, and would happily experience again. I highly, highly recommend that you see Aise Hee! 


To purchase tickets and find out more please go to https://londonindianfilmfestival.co.uk/aise-hee-just-like-that/ 


The Q&A with Kislay was an incredible conversation and touched on so much more about this superlative film. It is not to be missed. It will be streamed on the LoveLiff At Home so be sure to check that out as well. 


Thank you Kislay!