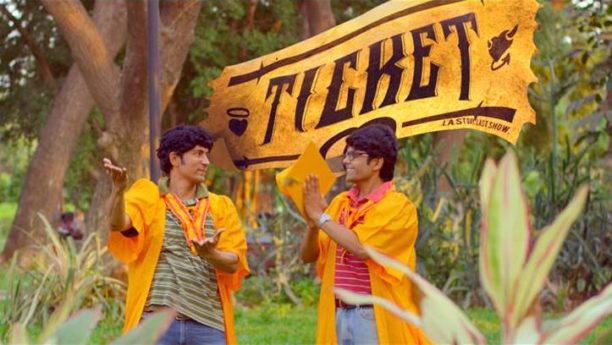 Avinash is a self-professed "nutty professor" – he's rarely seen without his trademark Leonardo da Vinci stuffed doll, and although he's in love with Ria, his attempts to profess that love are hapless and unsuccessful. When his best friend and fellow professor Athif proposes they join Ria and friends on a weekend trip, Avinash sees it as the perfect opportunity to finally tell Ria how he feels. But when Athif dumps Avinash with some test marking and leaves for the trip without him, Avinash decides that he's had enough of his own wishy-washy personality – starting today, no more dithering, only decisiveness. His meeting with a young woman who has left her home to meet with her boyfriend sets off a series of unpredictable events that put Avinash in direct conflict with the local goondas, but which ultimately allow Avinash to step up and take action.
Tamil actor and television personality Raaghav Ranganathan turns to writing and directing for his first feature film venture, having its World Premier at LIFF 2017. The film suffers a little from a bit of a "boy's will be boys" attitude, as well as a few tired gay jokes – though it redeems itself by turning those jokes into a positive gay message, something relatively rare in South Indian cinema. Pacing could be crisper, and there's an over-reliance on Avinash's narration to move the story forward. The film benefits, though, from several terrific performances. Director Raaghav Ranganathan's Avinash grounds the film, but he's supported ably by Karthik Kumar as the annoying yet endearing Athif. Young actor Kalai makes a mark as the goonda Bike – in fact, he gave me several truly laugh out loud moments.
There are a series of twists in the film that are clever and helped to keep me riveted until the very end, and there is a welcome attention to details, sowing little drops of information which become important as the story progresses, but which are never telegraphed so as to spoil the works.
Director Raaghav Ranganathan's Ticket – The Movie may not be ground-breaking cinema, but it's the perfect bit of lighter counterbalance to other, more weighty festival offerings, and a solid directorial debut from Raaghav Ranganathan.