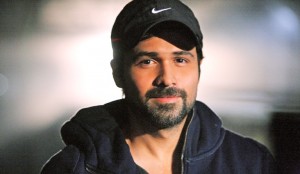 Actor Emraan Hashmi is back this Friday with Ungli, an edgy flick with a noir comic twist. The fast-paced anti-corruption thriller, directed by Rensil D'Silva, also stars Kangana Ranaut, Randeep Hooda, Sanjay Dutt, and Neha Dhupia. In the film, Emraan plays Nikhil, a brash young cop who goes undercover into the Ungli gang, a group of vigilantes fighting the system. Does he turn and join the fight or turn the gang in? You will find out on November 27th in the US and the 28th in India!
Emraan talked about what it was about Nikhil that made him want to play this role and be a part of Ungli and more in this cool Q and A.
What attracted you to the role of Nikhil?
He isn't your classic hero; I like characters that have a little bit of a dark side. I think in Hindi Cinema today, people want more than just your typical hero; they now enjoy relating to the villain as much as they do the hero. I think by adding a bit of attitude to the hero, it makes them far more relatable. It has to be said as well, Nikhil is a bit of a bad ass.
Can you tell us a little bit more about your character?
Nikhil is just your everyday guy who decides one day to take a stand against corruption. Along with his group of five friends they become vigilantes and start to fight back and try to expose all those who are crooked in the city.
Did you enjoy working with Kangana?
She is a fantastic actress. I have seen her previous films and I have worked with her before and it has always been enjoyable. We had a real blast working together and everyone says we have great onscreen chemistry so that always helps! Because the films involves lots of stunts we started going to the gym together, she is really dedicated to being the best she can be.
It's very rare to see you dance in your films. I heard a rumor you're going to dance in Ungli?
Yes! I think it is well known that dancing isn't something I normally enjoy doing, however I actually had a really good time doing it for Ungli. I have a scene with Shraddha Kapoor in a nightclub where we perform a song. I was quite nervous before we started because Shraddha is such an exceptional dancer, but it was actually really fun! It is a really eye catching song and I think people are going to enjoy it.
The trailer shows you locking lips with a very attractive young lady, you have gotten quite a reputation for yourself as a 'serial kisser', does this bother you?
There are worse things to be known as. (Laughs) In all seriousness though, I would rather people talk about my acting rather than who I happen to kiss within a film. I think people often think that I choose to kiss people within films; in reality I am simply following the script!
Be sure to check Ungli this Friday!