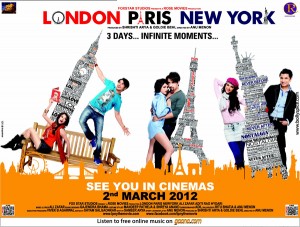 For Ali Zafar his musical reputation precedes his Bollywood journey. Though he has taken to the mike for his Bollywood projects, for London Paris New-York (LPNY) he has taken the responsibility of composing the tunes as well as penning the lyrics for the entire album, which is quite a feat. Does he manage to impress? We are about to find out.
In an earlier interview Ali confessed "I wanted to create sounds that are fresh and since the film touches on different emotions I could experiment with genres." So he's used Pop -Romance in London – Electronic Sufi in Paris – Blues-rap in New York, all blended in true Bollywood style. The LPNY soundtrack consists of 6 straight tracks, no remixes.
Title track "London, Paris, New York" is the quintessential descriptive song to capture the essence of the film. Playback by Ali Zafar and Sunidhi Chauhan, the track glimmers with a sunny disposition of simple music, melody and heartfelt lyrics. Starting with a plain piano tune, shifting slowly to guitar strums, to eventually Ali adding depth to the catch phrase, followed by an equally scintillating Sunidhi filling in, the track switches zones, moves from low to high pitch with amazing precision. Generous doses of Hindi-English mixed verses to suit the international set up of the film, it has jewels of lines that go 'Zindagi mein tum ho, ya tum mein zindagi hai bolo' (Are you living a life or is life within you?). Delectably groovy, it's a feel good song that will get your feet tapping and head bopping every single time you listen to it.
An upbeat, piano-dominated number, 'Voh Dekhnay Mein' is the cute bouncy number of the album. Ali sounds wonderful in this one, uses his smooth clear-cut voice with restrain to bring out the naughtiness and sincerity with equal enthusiasm. The teasing, playfulness of the words is impressive, and as cheesy as some of it sounds, 'Yeh gaana bhi toh usko paas laneka bahana hai') they are heartwarmingly real and catchy. The little interlude of choir thrown in for good effect lends winter sun warmth. You can expect this one to woo the music charts and stay right on top of them.
The acoustic female version of the same track 'Voh Dekhnay Mein' is nearly half the length of the original. Sung by Aditi, it's raw, supported simply by piano, no other accompanied instruments, and lacks the zest that Ali brings in with his version. With giggles and an extended 'oooohh' pitched in towards the end, it's charming in its sugar-coated way but not a very appealing, one-more-time sort of track.
On the list; next is Ting Rang to satiate the desi tastes with dhol beats, folk tunes, and Punjabi words. Owing to the od'ing of filmmakers on North India setups and desi tunes with 'Ainvayi', 'Nagada', 'Aahun Aahun', Ting Rang comes with a baggage of 'heard-before' déjà-vu feel. Fortunately again, Ali's vocals come to the rescue, and gives it a, if not winning but definitely distinct identity of its own. Though it doesn't have the trappings to make a presence on lists, it's sure to find a place among DJ's dance parties and clubs.
Thehree Si Zindagi has the leads taking to the mike and I can happily declare that despite Ali having the major portion, it's Aditi who over-shadows him and rules the track completely. The beautiful calm sugary texture of her voice uplifts the otherwise average lyrics. Additionally I would have loved to do away with the excessive use of the chorus 'who oh ohs' which continues in a high-pitched vein for longer than necessary
Next up Oo Lala is the surprise track of the album. What begins as a slow trance number, ends up being a strong club-dance track and much more. Ali brings on board Pakistani artists Sanam Marvi and Hadiqa to create a classical-influenced ode to liberation of the mind and doing what the heart wants. The rustic interlace from techno, sufi, back to techno is brilliant. The transition is clean and at no point does it feel like styles are out of place. Although it doesn't do much damage I would personally do away with the little rap part that comes across as unnecessary, but Ali's alaap that follows make up for it again
Straining of guitar strums, a faint echo of Ali's voice, you begin to believe that you're in for a soft gaazal ballad. One line into the song, Aaja shockingly changes track, dons on a mystique veil of sufiyana andaaz and turns into remixed version Bulle Shah's Bandeya (which was previously used in the movie 'Khuda ke liye). Clearly composed to suit the melancholy lover's separation part of the film, the track is an interesting fusion of traditional cum westernized funk, but is short, loud, interspersed vaguely through its 2&half minute running time and lacks repeat value. Unless you're a fan of the genre, skip this one.
Some great music; however a major remorse I had was that most songs, despite having scope, had minimum or repetitive lyrics. Gaps were either filled in by music or added chorus and left much to be desired. What adds endearing honesty to the album is that the playback for major part of it is is done by the leads Ali and Aditi themselves. This unfortunately could also prove to be a pitfull as for keen perfectionists there isn't too much voice variations in the album. How each is finally captured on screen will add bonus points to the appeal of this album. Nonetheless, Ali has stood true to his word of compiling an album with honest renditions of multiple genres. It definitely warrants a listen or two, even maybe on loop for some of it.