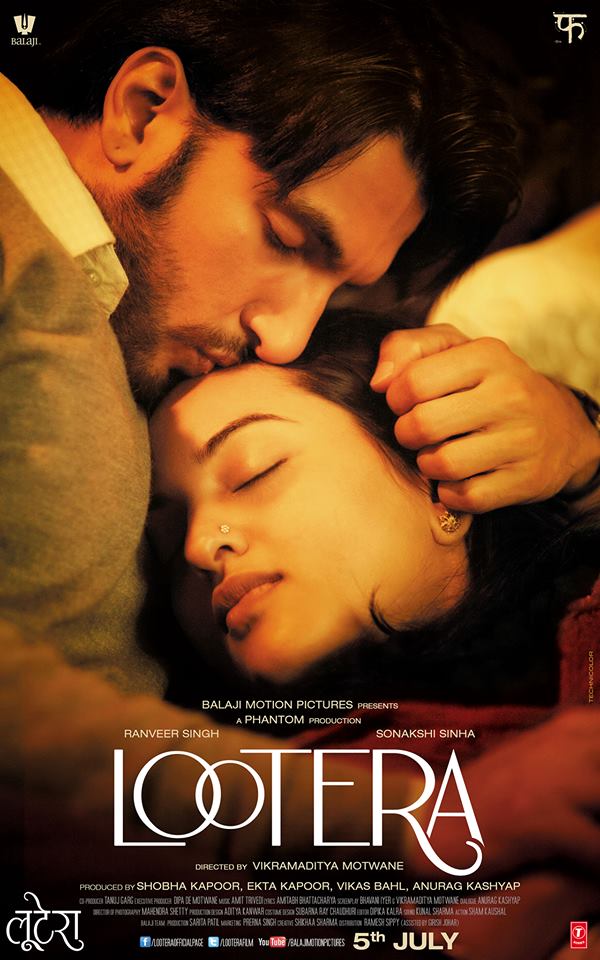 Vikramaditya Motwane proved himself a proficient story-teller with his directorial debut Udaan that delved into parent-child relationship. With Lootera, he ventures into the trickier romantic genre. The problem with the latter bunch of films being that there is just about little that can be done with the narrative of a love story. While the core most often is the same, if not handheld with nifty treatment, there remains a strong sense of déjà-vu and nothing to distinguish it from the hordes of romantic dramas Bollywood is known to churn out every year. Does Lootera make itself an affair to remember under the expertise of Motwane? Read on.
Lootera is a period tale, one that unfolds around post-independence-1950s, a time of new laws, amendments leading to upheavals in the reign of Zamindari. A Bengal aristocracy Roy Chaudhary is a victim of this change. Enter Varun (Ranveer Singh) an archeologist who not only convinces the zamindar to let him dig around the heritage land but also charms the zamindar's beloved daughter Pakhi (Sonakshi Sinha). However in the face of riches, trust and passion, what truly lies beneath is fake identities, false hopes, broken promises and more.
Sonakshi Sinha is at her finest form in her personification of Pakhi. She portrays the right measure of grace as royalty in equal balance to the disdain vulnerability in the latter part of the movie. The same unfortunately cannot be said about her co-star Ranveer, who has his dip moments a little too frequently. He appears in great discomfort, his body language doesn't exude the persona, attitude or menace as is required of his character. For what was an attempt to be an epic love sage, the chemistry between the leads is colder than the Dalhousie winter, which makes us wonder if two other more mature actors would've done a better job at it. Barun Chandra is perfect as the doting father and stoic zamindar. TV actor Vikrant Massey, as Ranveer's accomplice, bags some of the film's better lines and does impressive justice to them. Adil Husain, Divya Dutta, Arif Zakaria, Dibyendu Bhattacharya, Shirin Guha among others appear in brief supporting cameos, yet leave strong impressions.
The evident star of the film which earns itself top mentions is the myriad hues by cinematographer Mahendra Shetty that indulges the audience with the moods of the film – from the golden and green earthy shades depicting warmth and passion transporting to the white sheets of hilly north to signify loss and bereavement. Sharing top honors is the musical score by Amit Trivedi, lyrics penned by Amitabh Bhattacharya whose efforts work in perfect symphony to light up the proceedings and add soul to the picture.
A picture paints a thousand words. A moving reel of pictures tells a story. Vikramaditya attempts a fine try to weave together a gorgeous tale of deceit, compassion, love and life. Unfortunately in totality, a weak script and some average lines, the film ends up with a grainy texture one that doesn't befit a masterpiece. Does caring for someone, professing compassion necessarily interpret love? Does love make one unreasonable enough to forgive and forget? And to what extent is forgiveness an easy virtue to harbor? While on one end Lootera uses tranquility, whispers to create simple endearing moments, for most part of the run-time the script as distinct chapters with coincidences, convenient solutions is too contrived and fantasy-like.  These shortcomings steal away from Lootera its opportunity of becoming the masterpiece it was hoping to be, one that could have been remembered for years after.