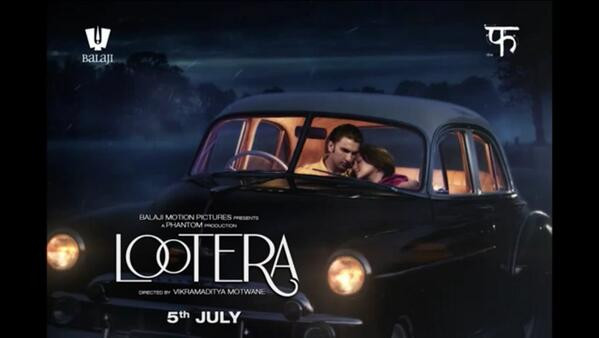 The first trailer of Vikramaditya Motwane's Lootera was unveiled at the cool Liberty Theatre in Mumbai on Friday. After the critically acclaimed Udaan, director Vikramaditya's Lootera is a traditional, emotional romance full of passion, pain, longing and of course love. Set in the stunning old world charm of Kolkata and Dalhousie, Lootera brings together for the first time, two of today's finest young stars, Ranveer Singh and Sonakshi Sinha. It marks the coming together of the industry's biggest creative powerhouses — Balaji, and Phantom Pictures, represented by Anurag Kashyap (DevD), Vikramaditya Motwane (Udaan) and Vikas Bahl (Chillar Party). A dazzling mix of style and substance, of the sublime and the spectacular, Lootera promises to be the epic period romance of 2013.
The event started with the starcast making an entry in a vintage car, Impala. Amidst humongous crowds cheering & applauding, lead stars of the film Ranveer Singh and Sonakshi Sinha made headway to the stage where they performed a brief act which was choreographed from a sequence in the film, followed by the unveiling of the film's poster by Sonakshi and Ranveer accompanied by Director Vikramaditya Motwane, Tanuj Garg, Ekta Kapoor and Anurag Kashyap.
The audiences were then shown a 10 minute making of the film which underlined the obstacles the team faced even before the shooting started. From creating the look of the 80's to the harsh weather conditions to the ill health of Ranveer Singh in the midst of the shoot, the film's shoot was postponed twice but third time proved lucky and they were finally successful in kickstarting the project.
Director Vikramaditya Motwane said, "I am nervous… scared. I'm very proud of this film. I hope people like it."
About the film Sonakshi revealed, "Lootera has been the most difficult shooting experience for me so far. In terms of character, look, performance, locations. Everything had to be from an era I knew nothing about. There were times while shooting I would wake up and say to myself 'why am I doing this?'But when Vikramaditya showed me the trailer and a few rushes from the film, I had my answer right there. Every struggle was worth it. I loved what I saw, and I can safely say this is probably my best performance so far. I felt like I was seeing another actress from another era on screen. Vikram had transformed me."
Ranveer agrees it was difficult, "In my earlier films, I have always been high on energy…smiling. But I am happy I got to attempt something different with Lootera. Initially I was frustrated. I felt I couldn't do this character. I couldn't get it right. It was Vikram, who convinced me that I could do it…all thanks to him."
Lootera is scheduled to release on 5th July 2013!
Check out these shots and then check out the incredible trailer!