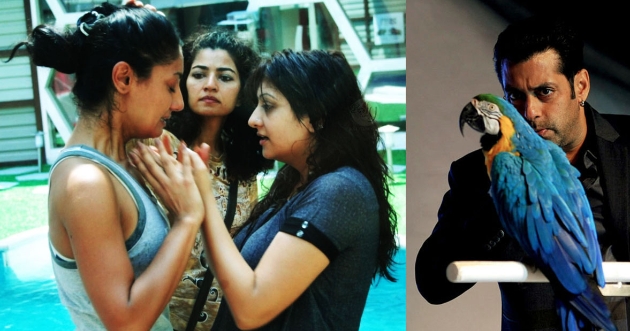 Last year, throughout Bigg Boss Season 5, megastar host Salman Khan was blamed for recommending and then being biased and partial to his so-called 'friend' Mahek Chahal on the reality show. Though Mahek and Salman repeatedly denied the allegations, the media seemed to be in no mood to agree.
Strangely, one by one, all Wild Card entries including Akashdeep Sky Saigal, Siddharth Bhardwaj and Amar Upadhyay, plus ousted contestants like Shakti Kapoor, Vida Samadzai, Pooja Misrra and Pooja Bedi started speaking openly to the media about Salman's partiality towards Mahek. Ultimately the poor girl lost credibility, making her an unlikely contender to win the finals.
Now with the launch of Bigg Boss 6, it seems the controversies claiming Salman's bias towards his so-called 'friends' is making a comeback. An article in Daily Bhaskar has alleged that Salman has recommended and is favouring contestant Niketan Madhok in Bigg Boss 6.
The article states, "This year it is model Niketan Madhok, who is part of Salman Khan's inner circle… Niketan is the second recommendation of Salman as the superstar and host of the show had put a word for model/actor Mahek Chahal too last year." (sic)
When we asked Bollywood PR guru Dale Bhagwagar about what impact such allegations could have on the show's image and credibility this time, he rubbished the rumours. "Both the cases are totally different," he quipped.
"Mahek was said to have rubbed people the wrong way before she went on the show," he remarked, admitting that she was even brash with him over the phone just a day before entering Bigg Boss.
The PR specialist was quick to add, "Niketan seems to be a pleasant guy. Moreover, Salman Khan is a very nice human being and in all these years, I have never heard any industry person deny that."
"Maybe, someone has an axe to grind with Salman and that is why such frivilous allegations are put up against him," Dale added. We hope this new rumour dies down quickly. Otherwise, we might just witness a Mahek Chahal Part 2.
This year Bigg Boss Season 6 promises to be "family-friendly". The other contestants in the house are Navjot Singh Siddhu, Sana Khan, Vrajesh Hirjee, Sampat Pal Devi, Urvashi Dholakia, Aashka Goradia, Dinesh Pal Yadav, Delnaz Irani, Sapna Bhavnani, Aseem Trivedi, Rajeev Paul, Sayantani Ghosh, Karishma Kotak, Kashif Qureshi.