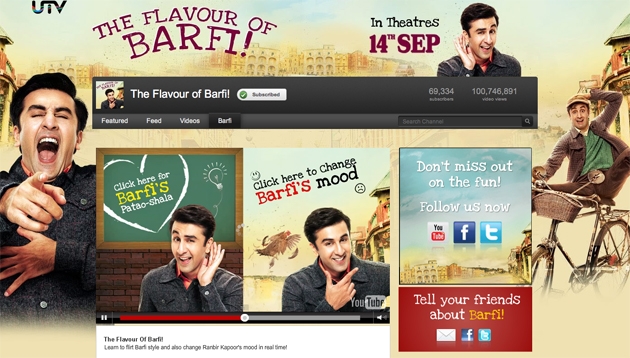 UTV Motion Pictures has launched an innovative and interactive application 'The Flavour of Barfi!' for the upcoming film Barfi! on YouTube.
With less than 20 days to go for Barfi! to hit the theatres, users can get a firsthand interactive experience of Barfi! on their computer screens with this application. This innovative app allows users to meet Ranbir Kapoor at their convenience and make him enact the many moods of Barfi!. Ranbir will smile, dance, cry, love and even flirt with the users as per their wish all in real time on their computer screens!
This innovative and cheerful app is available on www.youtube.com/barfi
"When UTV came to me with this concept, I loved it because it's a totally new way to connect with my fans online. We shot extensively for this YouTube application and I am sure people will have an awesome time discovering the various moods and quirky styles of Barfi!" said Ranbir Kapoor.
"We constantly innovate in our film marketing to keep audiences engaged. Ranbir is a youth icon and has a huge online fan following, so we decided to marry the theme of Barfi! with Ranbir' s charismatic personality to create an exciting new experience on You Tube that will keep users entertained for hours," said Shikha Kapur, Executive Director – Marketing, Studios, Disney UTV
"It is heartening to see Indian filmmakers leveraging the interactive elements of YouTube to drive engagement and interest for their films. YouTube has become central to the film industry promotions across the globe and UTV has clearly set the bar high for the Indian film Industry with this endearing application which I am sure all our users will love," said Praveen Sharma, Head of Media Sales, Google India.
Barfi! directed by Anurag Basu also stars Priyanka Chopra and Ileana D'Cruz in the lead. The film has music composed by Pritam and will hit worldwide theatres on 14th September 2012.
The Story of Barfi!
His parents named him Murphy, but everyone calls him Barfi! Always ready with a prank up his sleeve, he's quite the charmer, especially with the ladies. In Darjeeling, Barfi (Ranbir Kapoor) is the talk of the town, even though he can neither speak nor listen. His bittersweet relationship with two, beautiful young ladies, Shruti (Ileana D'Cruz) and Jhilmil (Priyanka Chopra), sets in motion a chain of events that will turn his life upside down. Welcome to the world of Barfi, in which audiences are invited to witness his amusing, naughty and sometimes crazy antics – a heartwarming tale of selfless love and about finding happiness in the smallest things in life; that tells you no matter how tough your life may be, "Don't Worry. Be Barfi!"