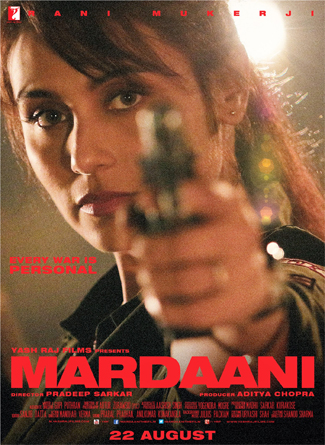 In any industry where the lead police cops are often shown as larger than life, one-man army characters, Mardaani is a welcome respite. Directed by Pradeep Sarkar, (Parineeta, Laaga Chunari Mein Daag), Mardaani's Shivani Shivaji Roy tries to steer clear of the Chulbul Pandeys and the Singhams of Bollywood cops and manages to do so to quite an extent.
From the first scene of the movie itself, Pradeep sets the tone of the movie as well as the protagonist. Shivani (Rani Mukherjee) is a Crime Branch Officer who finds her personal and professional life entwined after Pyaari (Priyanka Sharma), an orphan kid who she considers as her daughter, gets kidnapped. What on the surface seems to be a case of a missing kid leads to a darker and murkier world of sex trafficking which the antagonist Walt carries on such a large and organized scale that it will chill your bones. What ensues is a battle of wits between Shivani and Walt (Tahir Bhasin) where each tries to get to the other first.
It is refreshing to see a Hindi movie after such a long time which strives to remain realistic as well as entertaining. Pradeep tries to escape many set Bollywood clichés and he succeeds in most of them. The characters are the strongest point of this movie with each actor/actress playing the part to the T. The film definitely belongs to Rani Mukherjee who plays a cop with such ease that it is Shivani you see on the screen not Rani. Whether it is her banter with her colleagues, her calls with Walt or the seamless use of cuss words in her sentences, nothing seems out of place. Even the scenes involving her family – her husband and her niece Meera – never seem forced or unnecessarily thrust in. It's a relief that the director didn't have our lead break into songs or dream sequences!
Karan, or Walt as he calls himself, is not your typical looking fat, pan spewing pimp. He speaks English, looks like your average guy next door but has a menace that will make your toes curl. As Shivani is a hundred percent dedicated to her work, so is Karan/Walt who takes his 'business' pretty seriously and will not tolerate any threats to the same. The other characters in the movie be it Shivani's husband (Jishu Sengupta), the sex trafficking-drug dealing Vakil (Anil George) or Mona Ambegaonkar, each – in spite of their limited time on screen – slip into their characters with ease.
And Pradeep would indeed have given us a gem of a movie if the movie hadn't spiraled in the second half. While the first half tries to stay realistic, the second half ends up incorporating the very clichés which the first had avoided. So Shivani ends up being the lone warrior in the crime world fighting the battle, like a female Chulbul/Singham without any help. This doesn't help the movie which till now had a great pace and some very good scenes.
Nevertheless, Rani's mardaani Shivani is a close second to Sarfarosh's Ajay Rathod and that is saying something. In spite of a couple of flaws, this is still a very good movie to have come out in a long time. It's definitely worth a watch.