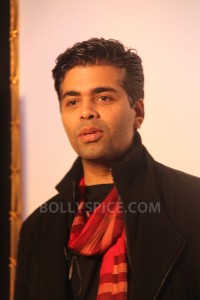 Karan Johar has said that marketing his new film Student Of The Year, which has an unknown cast, has been difficult. "It's called marketing these days but it is in fact begging," said the Kuch Kuch Hota Hai director laughing at a press conference in London earlier this month.
"We are going everywhere begging people to see our film. Marketing has just become an elite terminology. It has become as difficult to market a film as making one, unfortunately or fortunately," added the filmmaker.
Speaking to BollySpice reporter Sunny Malik about his visit to London to promote newcomers, Johar said: "Even though it is Sidharth, Varun and Alia's first film, people should know about the film and should have heard of the three. Then they have to grow to like them and then, they have to grow to love them. That is a process and it will take time but we have to kick-start it somewhere. At the end of the day, I know how difficult this audience is in the UK having delivered many, many films here. I actually have had an exceptional run here. But I know, it is very difficult to penetrate and really do the numbers."
Karan Johar's last directorial venture, My Name Is Khan (20th Century Fox) is currently the highest-grossing Indian film of all times in the UK with a total gross of £2,630,000.
Kabhi Kushi Kabhi Gham (Yash Raj Films) and Kabhi Alvida Naa Kehna (Yash Raj Films), also directed by Karan Johar, are the second and third highest-grossing Indian films of all time in the UK with a total gross of £2,500,000 and £2,065,000 respectively.
Student Of The Year is out in UK cinemas on 19th October 2012.