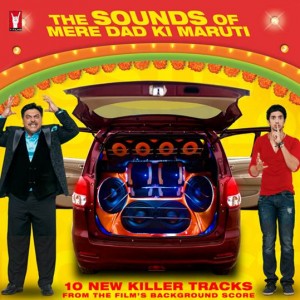 Bollywood has known to have sequels to their films, but not their music albums. Mere Dad Ki Maruti, the latest from YRF is innovating big time. The youth studio, Y-FILMS, has launched the background score for the first time, across all digital platforms.
And it's not just a collection of instrumental pieces, but ten, yes, you read that right, 10 tracks, originally scored for the film. From unique thematic pieces to fit every character to tracks that capture the mood of critical situations in the film, the album is fully loaded with lots more Punjabi music.
And going by the original album, this one adds flavor to the film, like makhan to lassi. The tracks from the first album, "Punjabiyaan Di Battery", "Main Senti Hoon", and the Title track are already thumping in cars. Add to that is this collection of tracks that is not only so earworthy from a music perspective, but also from a lyrical angle.
Sachin Gupta continues to score track after track and Kumaar doesn't stop penning catchy lyrics.
Do catch the Jaagran style take on on the Dhoom theme too.
Here is the track list on the album:
1. Chal Chheti
2. Chandigarh Ki HOT Shakira
3. Tha Tha Tha
4. Red Red Laali
5. Teri High High Heel
6. Chak Le
7. The Hunt for the Red Maruti
8. Shaguna Di Raat
9. Maata Ki Dhoom – Jaagran style!
10. Maa Da Karz 
To listen to "The Sounds of Mere Dad Ki Maruti" click here!
Get ready for an outrageous comedy set against the backdrop of a loud Punjabi wedding in Chandigarh. MDKM, set to release March 15th, tells the story of a boy who sneaks his dad's fancy new car out to impress the college hottie and how all hell breaks loose when he loses it!