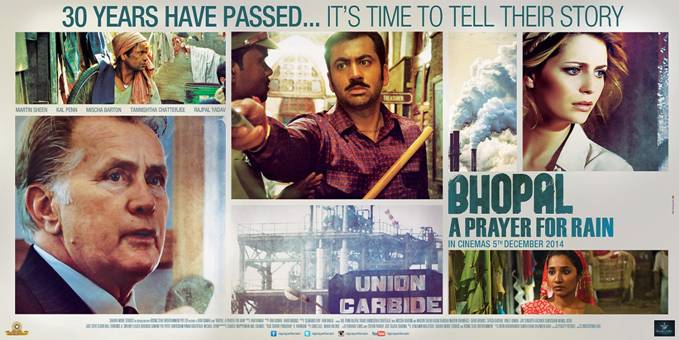 Accomplished actor and former White House staff member Kal Penn will give a special live Q&A session with audiences in New York City on the opening day of his latest film, the acclaimed social thriller Bhopal – A Prayer For Rain. The Q&A will be held on Friday, November 7, after the 7:30pm show at Village East Cinemas (189 2nd Avenue at East 12th Street, NYC, 10012). Penn will also give a special intro to audiences before the 10:25pm show as well. Tickets are available now at http://www.VillageEastCinema.com/.
Kal Penn also appeared on the newest episode of HBO's Emmy-nominated series Real Time with Bill Maher to talk about his role in Bhopal – A Prayer For Rain. The episode is currently playing on the network and is also available through HBO On Demand and HBO GO.
Opening in U.S. theaters one month before releasing in India, the acclaimed thriller Bhopal – A Prayer For Rain starring Martin Sheen, Kal Penn, and Mischa Barton debuts exclusively in New York City on November 7 and will open in Los Angeles, Chicago, and additional cities throughout November. Based on the Bhopal gas tragedy of 1984, the much-awaited film has already won raves from critics and audiences alike at the Tokyo International Film Festival and the Pan Asia Film Festival in London. The impressive cast also includes Tannishtha Chatterjee, Rajpal Yadav, and Satish Kaushik.
Watch the gripping new US trailer for Bhopal – A Prayer For Rain below!