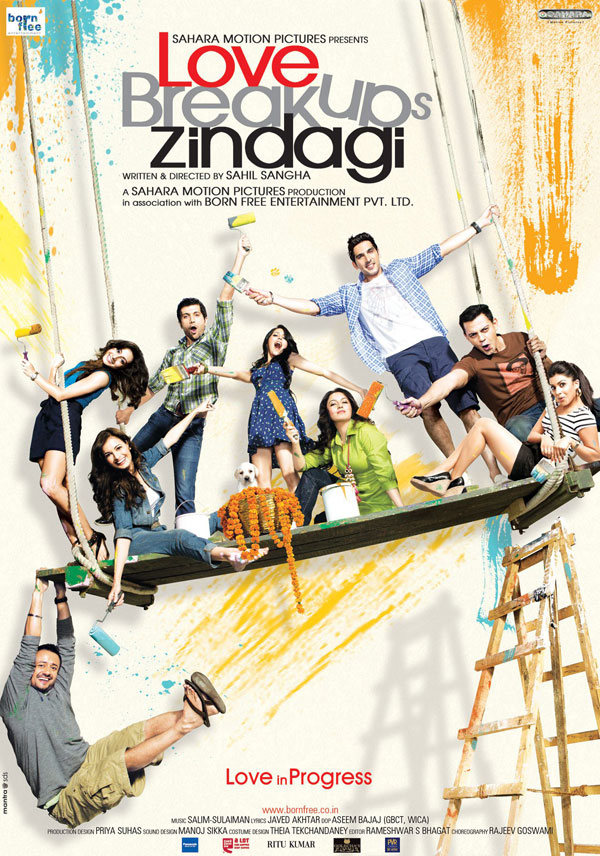 Directed By Sahil Sangha and starring Zayed Khan, Dia Mirza, Cyrus Sahukar, Umang Jain, Tisca Chopra, Satyadeep Misra, Auritra Ghosh, Pallavi Sharda, Vaibhav Talwar the film Love BreakUps Zindagi is a look at well… love and life.
The film is an exploration that asks if opposites attract or repel? Is love an option or a choice?
And what if The One is already with Another?
Written and directed by Sahil Sangha, tuned by Salim Sulaiman and with lyrical inputs by Javed Akhtar, the film takes us into the baffling core of modern relationships.
For instance, Jai (Zayed Khan) and Naina (Dia Mirza) are almost "settled" in their life but missing something or someone who will complete them. Jai feels that magic and serendipity have passed him by. Naina has taught herself that a less than fulfilling life is enough for her. But is it?
Govind (Cyrus Sahukar) has a colourful past and is on his way to another major, seemingly all wrong relationship. But what if this 'mistake' is the love he has been looking for all his life?
Sheila (Tisca Chopra) has stayed single for a long time waiting for Mr. Perfect. When he does appear, will she take her chance at love, look beyond the odds that divide to see what binds them in a perfect whole?
Ritu (Umang Jain) lives on breakups and ice cream. Will she ever find a man, and share a beginning and not just a closure?
Arjun (Satyadeep Misra) and Gayatri (Auritra Ghosh) are the perfect couple on the brink of a dream wedding. Will their love inspire the others to listen to their heart?
Dhruv (Vaibhav Talwar) and Radhika (Pallavi Sharda) are driven workaholics ignoring the small text of their lives. Will they wake up to see what they have missed in their desire for everything?
Watch these characters as they find personal truths, shed illusions, laugh, cry, grow up and learn the biggest lesson of all. That even if you don't go looking for love, it will come looking for you.
Let's learn more about the characters!

Gayatri
Auritra Ghosh, portrays a character who's enthusiasm and sheer spirit of being is enough to inspire joy in the lives of others around her. Her eyes speak a million words, and those close to her understand every one of them.
Arjun
Satyadeep Misra's character is one of a man who has found a way to happiness that others can only be envious off. The groom to be is set to embark on a personal journey with the woman of his dreams and reality!
Sheila
Tisca Chopra, plays a character that embodies grace and poise. She effortlessly carries a beautiful aura to her immediate surroundings, leaving one and all mesmerized by her disposition.
Ritu
Umang Jain plays a girl who is helplessly in love with the idea of being in love. In tune with the dilemma that most young girls her age face, Umang struggles to choose between the real reasons that manage to keep a relationship on track.
Govind
After living a sheltered life in a conservative Gujarati household, Cyrus Sahukar plays a young man who has fought hard for his new found independence. His journey travels through a life he always wanted, and towards an opportunity that would give him more than he ever imagined.
Naina
Dia Mirza, plays a free spirited photographer, whose life seems to have found the perfect balance. A chance encounter, forces her to discover a life that she once new all too well. Once again she must find a new balance, whilst maintaining the integrity of relationships that surround her.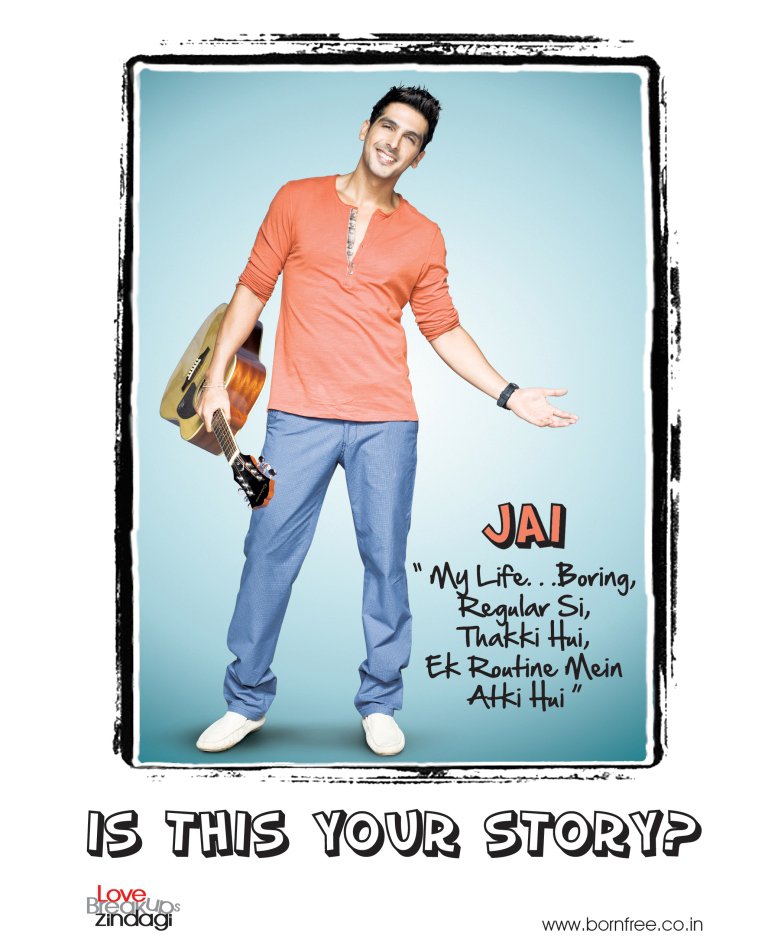 Jai
Chained to the routine of his daily life, Zayed Khan plays a young exec searching for a breath of fresh air. He is soon to discover love! Only to realize that sometimes, it comes along in the most unexpected ways and at the most unexpected time.
Radhika
Pallavi Sharda plays the role of a girl who understands life in 3 simple stages. Planning, Execution and Delivery. Her life revolves around a perfect plan that has been set in perfect motion, until the unpredictability of reality strikes.
Dhruv
Vaibhav Talwar plays the role of a young man who thinks of the financial markets as his playground. Driven by ambition, he is solid, dependable and endearing as he finds himself to be the pillar of strength to the lives that surround him.