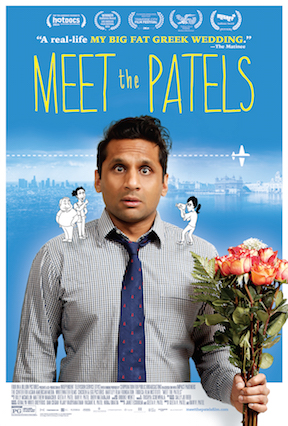 Meet the Patels, including "romantic" hero Ravi Patel, his sister Geeta, and their wonderful parents, Champa and Vasant, who are seen in a hilarious new documentary called, well, Meet the Patels. Loved by audiences and the winner of numerous awards at prestigious film festivals, this real life romantic comedy is now getting ready for it's theatrical release in the US on September 11th.
Interspersing handheld camera footage and animation, this extraordinary film follows the travels of unmarried, thirty-ish Ravi as he goes through the process of trying to find an Indian bride the "traditional" way, aided and guided by his parents. Seen through the eyes of Geeta's camera, we get to experience Ravi's ups, his downs, his dates, his travels, and, in the end, his realization of what he truly wants.
Meet the Patels is a very interesting look into the process of arranged marriages – the biodata, the setting up of dates, the help from everyone else in his life, including complete strangers, and the meet but maybe not so cute events. For me, it is a look into adults that are both Indian and American and their struggles with honoring their parents and their culture, but also finding what and who makes them happy.
Shot in the style of a family home video, the rough looking footage can be, as Ravi points out in the beginning of the film, out of focus, and even showing the microphone really adds to the feel of the film. I felt I was there in all the moments with them instead of just watching a film. I actually forgot that this was a documentary, until the scenes of Geeta in her car, filming her brother as he goes on an arranged date and laughing as she says that she loves that she gets to do this.
The animation is another brilliant addition to the film that helps move the story along in an unique way and adds that extra surprising element that makes Meet the Patels what it is – great. I loved that it was very simply drawn with almost a flickering quality to it – it made it fit instead of jarring you out of the story line. Also, Geeta and especially Ravi's voiceover really hit the mark and made the animation work even more.
I don't think the film would have made such an impression without Ravi, (an actor in Hollywood who will be seen opposite John Stamos in Fox's new single-camera comedy Grandfathered) as the subject of the documentary. He was funny, vulnerable, open, and welcomed us into his life and his journey through the film. Geeta, who is almost never seen but always felt and heard, adds a fabulous layer. However, it is their parents and especially Mr. Patel that make the film even more charming and so enjoyable.
Though it is set in an Indian culture context, Meet The Patels will resonate with everyone because at its heart it is about relationships both romantic and familial, expectations, and finding what you want in life.
This film is real, it is raw, it is heartfelt, touching and at times laugh-out-loud funny. You can tell this film was made with skill and humor but most importantly with love. I thoroughly enjoyed the ride and wanted to see it again when it was over and I am sure you will too!
Meet The Patels opens on September 11 in NY/LA/Chicago and then will expand to additional cities on September 18th!
youtu.be/UPLQ4sadJDQ