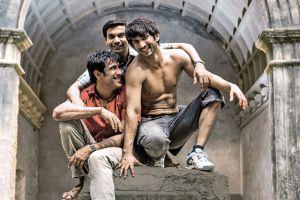 Members of the Bollywood fraternity that attended yesterday's screening of Abhishek Kapoor's Kai Po Che, have taken to Twitter to express their praise for the film. Here's what some of them said:
Arshad Warsi: 'Depth, substance, human relations, dreams n much more. Great performances, brilliant direction, stunning cinematography thats "KAI PO CHE"'
Roshan Abbas: 'Kai Poche!! Leaves u speechless ! Do yourself a favour Watch it. @abhishekkapoor does a stellar job as director. One film abt which every tweet is the honest truth. Sensitive, subtle, soulful.'
Maryam Zakaria: '#KaiPoChe really nice and emotionally touching movie. Brilliant work by @Abhishekapoor n every single actor in the film. A must watch film!'
Monica Dogra: 'Kai Po Che. Woooowwwww. How beautiful. #KaiPoChe @_Amrita_Puri – see this film. @swanandkirkire and amit trivedi. What a fine job all!'
Shruti Seth: 'Please watch Kai Po Che. Sensitive & soulful. Impeccable job by director @abhishekkapoor, his cast and crew. New actors to watch out for.'

Salim Merchant: 'Just watched kai po che…brilliant film'
Hansal Mehta: 'Kaipoche is a deceptively simple & very well executed film. Made with a lot of heart by @Abhishekapoor and well cast, well acted, well shot.'
Mini Mathur: 'Kai po che is a beautifully crafted film. Sensitive & engaging..with a brilliant young cast & Amit Trivedi's evocative music. Don't miss it.'
Sujoy Ghosh: 'i dont know who hitesh soni is but dude.. tu sher hai.. the bgm of Kai Po Che is one of the best i have heard in a long time. clap clap and Raj Kumar Yadav in kai po che is superb. that boy is so good.. and one actor called manav kaul. spot on casting. brilliant acting.'
Kabir Khan: 'When you wake up & last nights film is still running in your head… You know the film has touched you deeply…. KAI PO CHE…'
Huma Qureshi: 'How amazing was #KaiPoChe.. Faab Sushant, @raj_kumar31 @TheAmitSadh ..take a bow @Abhishekapoor. Must watch! Honest. Real.'
Shrishti Arya: '#kaipoche what a wonderful film! Stayed in my mind since the screening… Haunting me… Good luck @Abhishekapoor: and more power to team UTV for backing a vision and not a proposal.'
Neha Dhupia: '#KaiPoChe is simply outstanding. Congratulations @chetan_bhagat @_Amrita_Puri @Abhishekapoor and team #KaiPoChe. This ones a must watch.'
Shraddha Kapoor: 'Saw #KaiPoChe last night. Still reeling from it. Beautiful film.. amazing performances @Abhishekapoor
Kai Po Che, produced by UTV Motion Pictures, releases in the UK and Worldwide on 22nd February 2012.