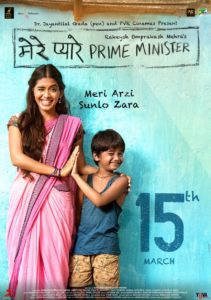 The posters for Mere Pyare Prime Minister are of a fun film about the relationship with a mother and her son in some facsimile of a Mumbai slum. What hides beneath in this Rakeysh Omprakash Mehra's social drama (where he is writer, director and producer) is the sad tale of a woman attacked and an 8-year old's method to get a solution. As an audience it would seem sensible for the soundtrack to highlight the lighter parts of this film and Shankar, Ehsaan, and Loy have done that with 4 songs to have some fun with.
Given what was learnt in the film's trailer it's not surprising to find the first song in this album is the Title Track. There is no surprise in Arijit plus a chorus singing the line "Mere pyare prime minister, meri ek arzi sun lo zara" but SEL have found a jazzy and different way to deliver it to the listeners. Taking the sound styles often used in college dance songs, they've employed a chorus to develop a sound seemingly from the depths to its heights in a blue sky, allowing Arijit to interject his normally handsome alto sound with just a little soprano as he takes his sound to the next level. Fun all the way, keep an ear out on the lyrics as some home truths are still coming in.
Rezgaariyan is the next song but even its title needs some explaining. Rakeysh Omprakash Mehra has been on social media to help explain it but if audiences keep an ear on the lyrics sung by Shivam and Shankar Mahadevan while watching the show, this isn't difficult to get a feel for what it is all about. The rhythm is at walking pace, with a jazzy guitar feel and a deep bass sound, this is another light feel song with serious implications: "Neeche wala jo bhi dega paisa lega"… still well sung and the light feel cuts the harsh feel of the lyrics so that cinemagoers don't lose the entertainment factor while pondering life.
Kanna Re Kanna is a mother's song. Sung by Rekha Bhardwaj it's the longest song in the album but this lullaby is worth it. Very light angelic backing given primarily by flute allows Rekha's nasal accented voice its full glory. The very much in the background synth rhythms keep it from becoming boring and a piano for the bridges is a loud noise to keep us from falling asleep to the sweet melody. Once again lyrics play a huge part and if given a chance this one will require tissues.
Bajaa Bajaa Bajaa Dhol Bajaa Re is a need ending to this album as it is a remake of a very old classic song originally composed by C Ramchandra. C Ramchandra may be familiar for a lot of Dilip Kumar and Raj Kapoor's early films having been music director for Anarkali, Azad and Sargam. This particular one is from Navrang. SEL themselves have kept all the good bits from C Ramchandra's original intact and have mashed it with a modern vibe of their own as if the song was being played on a radio and the actors were adding to it themselves. This gives it a light and easy feel with still enough dance elements to make this one popular come Holi.
With such a narrow topic film (keeping in mind Bollywood films over the years have taken on several topics over their allotted time) it's easy to have a short album and still be effective. SEL themselves are not new to this having done Rockford in their early days and Halkaa more recently. With this album they have brought the essence of any existence: from the outside it's all easy and jazzy but if you look deeper in there is a mix of sadness and the occasional dance number. This album may not last long in the memory if the film doesn't but it does everything that could be asked of it.