The real fireworks now begin with the world premiere of the poster for Akshay Kumar's much-anticipated next film MISSION MANGAL, which releases in theaters on India's Independence Day, Thursday August 15, The true story of India's space mission to Mars features an all-star cast that includes Vidya Balan, Taapsee Pannu and Sonakshi Sinha.
Check it the cool poster!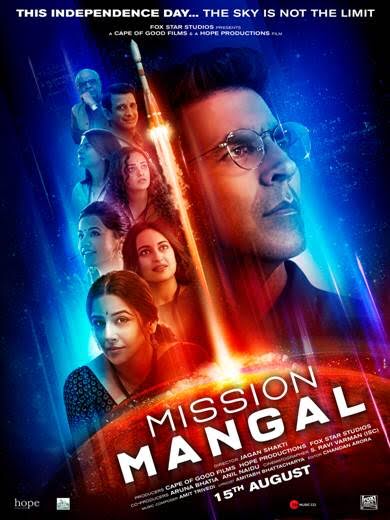 We also have for you the very intriguing and exciting synopsis of the film: Mission Mangal is the incredible, true story of a scientist, Rakesh Dhawan, played by Akshay Kumar and Tara Shinde played by Vidya Balan who lead a motley team of scientists who overcome their personal challenges and failures to serve as the brains behind one of the greatest missions in history: the launch of India's first satellite to Mars, a stunning achievement that restored the nation's confidence. The film is a tale of ordinary people doing extraordinary things and inspiring generations to dream big and achieve the impossible.
About the film Akshay says, "For several years, Hollywood made movies and TV shows like Star Trek, Star Wars, Gravity etc. This inspired an entire generation of inventors, scientists and explorers. I have always wanted to be part of one such movie… A movie that inspires our future generations… One that celebrates imagination and curiosity.
"Mission Mangal is that film for me… A film that I hope, will inspire as much as it will entertain. Based on the incredible true story of India's mission to Mars, Mission Mangal is a film about ordinary people achieving the extraordinary… A story that proves that creativity, ideas and dreams have no limit… just like the sky!"
"This Independence Day, the sky is not the limit," he added.
We will be bringing you all the Mission Mangal news so watch this space! (Pun a little intended!)