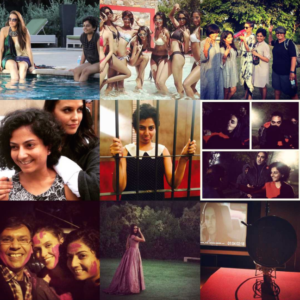 Moh Maya Money ("In Greed We Trust") opens in the most explosive way possible, with a fiery car crash and a grieving widow. 
"Why do you take so many risks?" Divya (Neha Dupia) asks her husband Aman (Ranvir Shorey).  Aman's response is one many of us can understand:  he wants to be rich.  A real estate broker, he's no stranger to fiddling timelines and skimming funds, but when a chance for a bigger deal comes along, he's willing to take the risk when others advise him he should not.  "You don't get to go to heaven unless you die," he justifies.  Even the small-time real estate dealer and full-time thug, Raghuveer (Dev Chauhan), who Aman takes the deal to, wonders if Aman shouldn't be nervous, but all Aman can think about is the multi-million dollar slice of the pie that will be his share.  "The client gets the cake," he justifies, "but we get to enjoy the cream."
It's Aman's greed, not surprisingly, that serves to set everything unravelling, though we see the first stitches begin to run before he even has a clue that things are coming undone.  The script sets Aman up like a bunch of dominos, and when the first one falls, we understand that it's only a matter of time before they all come tumbling down, one by one.  The film doesn't follow this predictable pattern, though, choosing to circle back in a non-linear timeline in order to give us different perspectives of the same scenes.  We know what has already happened – or we think we do, but the film adds layers to our understanding as it shifts back and forth in time, and every detail, no matter how small, has the potential to be of greater importance later on.  We learn, too, that Divya, a newsroom executive with a bright future, has secrets of her own to keep.
The film's dialogues are crisp and clever, Munish Bhardwaj's direction is meticulous, and all the performances are spot on.  Ranvir Shorey and Neha Dupia have always done their best work in independent films, and Moh Maya Money is no exception to this – Shorey takes Aman from cocky dealer to someone desperate enough to do anything to get out of the trap he's found himself in, and Dupia is solid as his suffering wife who must reluctantly get involved in his white collar crime in order to save the both of them.  A special mention needs to be made of Oscar-winning Resul Pookutty's sound design, which adds another layer to the film. But the real star of this film is the story itself, infused with Delhi noir and enough twists to keep us guessing until the very end.  Moh Maya Money is compelling viewing and a must-see at this year's London Indian Film Festival.