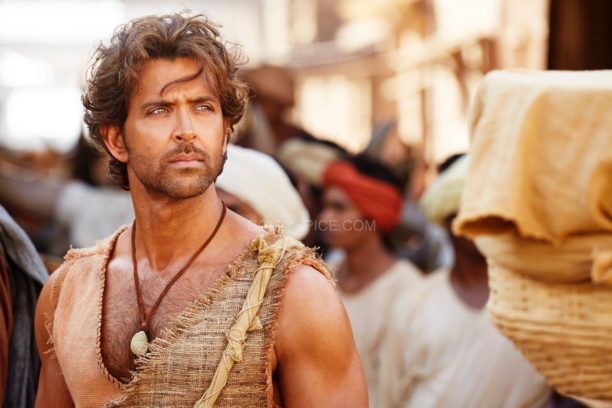 Set to release on August 12th is Ashutosh Gorwariker's magnum opus Mohenjo Daro. The historical epic, set during the Indus Valley Civilization stars Hrithik Roshan, Kabir Bedi, Arunoday Singh and introduces Pooja Hegde.
During the prehistoric Indus Valley Civilization, in 2016 BC, the evil greed of a man is about to destroy one of the oldest cities in the world, Mohenjo Daro. A young indigo farmer, Sarman (Hrithik Roshan), enters this city and meets Chaani (Pooja Hedge), the daughter of the Priest, predicted to be the Origin of a New Society. Sarman, in his attempt to win Chaani's love, uncovers secrets nobody was ever supposed to know – about Chaani, about Mohenjo Daro and about his own past!
Talking about the film, Gorwariker told us, "It is a civilisation that has fascinated me for many many years. What fascinated me was – what is this civilisation? Who are these people? What was their society? What kind of politics did they have? What kind of religion did they have? What did they believe in? What are the manners and morals of society? If I focus only on these aspects and not have a story then it could easily have become a documentary. So a story was a must. That is what I have weaved in based on all the excavation facts that have been found."
He says he could see no one but Hrithik to play the role of Sarman, "Hrithik was my first choice, and I am very glad that it materialised. Hirthik has the ability to make any world believable. It is what I feel when I observe him as an actor. He has the ability to create certain convictions within the created world. What I am saying, it's not a Jodha Akbar, he can even be the role created in Guzzarish, he can even be the role he is going to be in Mohenjo Daro because he tends to do very different things and he tries to do them with a lot of conviction. So for me, for Mohenjo Daro, he was the first choice and I hope he makes the world believable for the audience."
And of course there had to be a love story, "I couldn't have made a film on the Mohenjo Daro civilisation without weaving a love story into it. When you pick a culture like this civilisation, there are certain common elements that come into play. There has to be a hero, there has to be a villain, and there has to be a heroine. They are the three necessary ingredients. Within that the romance becomes very important; otherwise it is difficult to convince an audience of a civilisation. Of course we want to see great sets and property and lush colours, but only after we see the hero and heroine, so the romance becomes important. I don't think I would have made this film without the romance."
Hrithik said in media interaction earlier, "I am very happy to act in this period film because Ashutosh Gowariker has made a very good film. It is a very difficult film to be a part of and we don't see people making such films as they require a lot of research and hard-work in terms of pre-production. I think only Ashutosh Gowariker could have directed a film like this and only I could have agreed to be a part of a film like Mohenjo Daro."
In case you missed it here is the trailer!
Now we have an even deeper look into the characters that make up the world of Mohenjo Daro!
SARMAN
Sarman is a young indigo farmer from Amri village. He wishes to go to the city of Mohenjo Daro for trade. Finally when he reaches the city, one after another it unravels many secrets to him. He also finds his love in the city. But, he has many battles to fight before he can win his love and redeem his own past.
CHAANI
Chaani is the daughter of the Shrine Priest of Mohenjo Daro. She is the Chosen One, a symbol of the grace and blessings of Mother Sindhu, predicted to be the Origin of a New Society. People of the city believe that a better future of Mohenjo Daro depends on Chaani's choices.
PRIEST
Priest is Chaani's father. He is a wise man who wants all the happiness for his daughter. An eternal well-wisher of Mohenjo Daro and its people, he is full of compassion. He also holds many keys to Sarman's past.
MAHAM
Maham is the Senate Chief of Mohenjo Daro. He is a despot who rules using uninhibited force and violence. He has empirical ambitions of ruling over the entire Sindhu Land.
MOONJA
Moonja is the only son of Maham. A debauch and brute of the highest measure, he is a cruel warrior. Maham has proclaimed him to be the next Senate Chief of Mohenjo Daro. Moonja is betrothed to the Chosen One, Chaani.
DURJAN
Durjan is an indigo farmer in the village of Amri on the banks of river Naraa. He is Sarman's uncle. He has brought Sarman up with all the love and care. But, he has his own secrets to hold back.
BIMA
Bima is Durjan's wife. Herself childless, she has always doted on Sarman like her own son. For Sarman too she has been the only mother.
SRUJAN
Srujan is Sarman's father. A just man, he is known to be the best Senate Chief, Mohenjo Daro has ever had.
JAKHIRO
Once, Jakhiro was a Senate member. His was one of the most prosperous families of Mohenjo Daro. Fate has rendered him homeless. Now bedraggled, he wanders the city like a mad man.
LAASHI
Laashi is Maham's wife. She is a woman with a golden heart who is trying to find her place in the darkness that surrounds her. She is fond of Chaani.
HOJO
Hojo is a childhood friend to Sarman. He has always been with Sarman through thick and thin. He accompanies Sarman to Mohenjo Daro and supports him in his battles against injustice.
JUNU
Junu is a childhood friend of Chaani who keeps all her secrets. A happy go lucky girl, she also acts as Chaani's advisor from time to time.
LOTHAR
Lothar is one of the guards who keep vigil on the main gate of Mohenjo Daro. He becomes best of the friend with Sarman and Hojo. He guides them about the laws and ways of the city. When the time comes, he becomes the most important man for Sarman in his fight against the tyranny.
KULKA
Kulka is Maham's personal servant, a handyman who is ready to do any kind of job for him. He keeps all his secrets.
ISHME DAGAN
Ishme Dagan is a shrewd merchant from Sumer. Covertly, he smuggles copper weapons to Mohenjo Daro. In return he receives gold from Maham.
Plus we have these cool new stills and posters!