By Bahar Sachdeva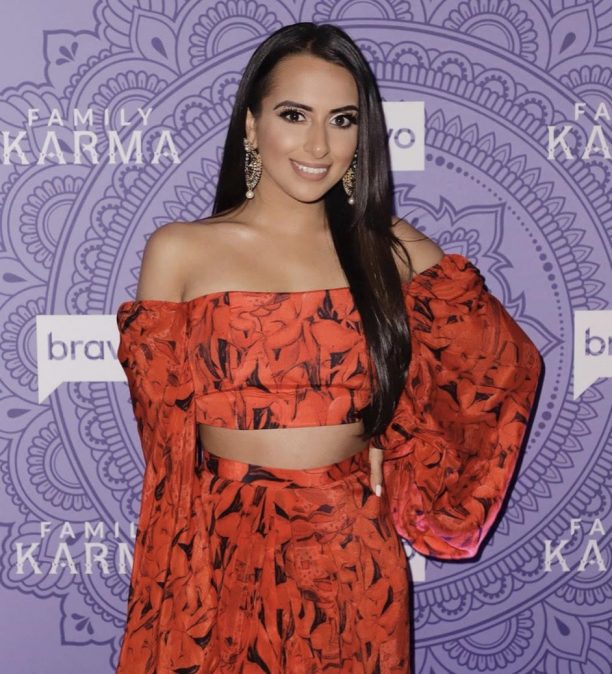 Bravo's Family Karma, which airs on Sunday nights at 9PM EST, is a highly addictive, humorous reality tv show set in Miami, starring an all desi cast of seven friends and their multigenerational families.
Now we are going to introduce you to one of the fabulous friends in this exclusive interview!
She loves Ayushmann Khurrana and Bali's skincare products – meet the super sweet Monica Vaswani.
How do you feel about being a part of the first all-Indian cast on an US reality TV show?
Oh man, I am so, so, so blessed for the opportunity. Our families go back like 25+ years, we've been friends for so long. Having those relationships and those bonds already was already kind of in place. Bravo then came along and wanted to get a sneak peek into what Indian cultures are like. It's kind of like this mystery world; you haven't really had Indian representation on reality TV in this way. For us, we got to hang out with each other, spend time with each other, it was a perfect fit. I also think all of us lead really interesting lives and we all have really interesting stories. It's really nice to be able to kind of dive into that and have everybody be so transparent with.
After being on the show, have you seen your relationship change with your friends?
Oh we've gotten so much closer, I feel. And we get to spend so much time with each other! For us it was a win-win. It's like hanging out regularly! 

In Indian families, it's usually the norm to be private about your issues and your life, how were you and your friends able to convince your parents and your families to join an US reality TV show?
I think that we are really blessed in the sense that we have really supportive parents and this opportunity was once in a lifetime. I think going more beyond than what our parents felt, of not wanting to be in the spotlight, it was such an incredible opportunity to showcase that light onto Indians in general. Just to be given this opportunity could open up so many doors, not only for ourselves, but for the world to be able to see what our households operate like, what our religion is like, what our culture is like, what our people are like. I think that once they understood the kind of the magnitude of what this could do for people in general in the mass majority, it became an easy ask.
Since the show aired, have you been recognized at all? How has the reception been so far from the audience?
You know I have to say that we have been so welcomed. Everybody has been so kind, so sweet, on Twitter, on Instagram, everybody's just been reaching out and just really showing that support, which is incredible because you never know what reaction you're going to get when you put yourself out there. You're going to be your authentic self, and you'll expect that you'll always get that percentage that won't like me, and that's okay. To be very honest with you, we've received nothing but love. It was very funny, I was actually at this mall here down in Bal Harbor and I was waiting in line to get a reservation and two people in line just kept turning back and staring at me. The whole time I was trying to place them – did I go to college with them? Like where do I know them from? And then I realized that oh shoot, the episode just came out and it's probably someone that I don't know and we were playing this stare-off game just trying to recognize each other. (Laughs) It was really funny but it's a lot of fun to be able to have that interaction with your fans and just get to know them.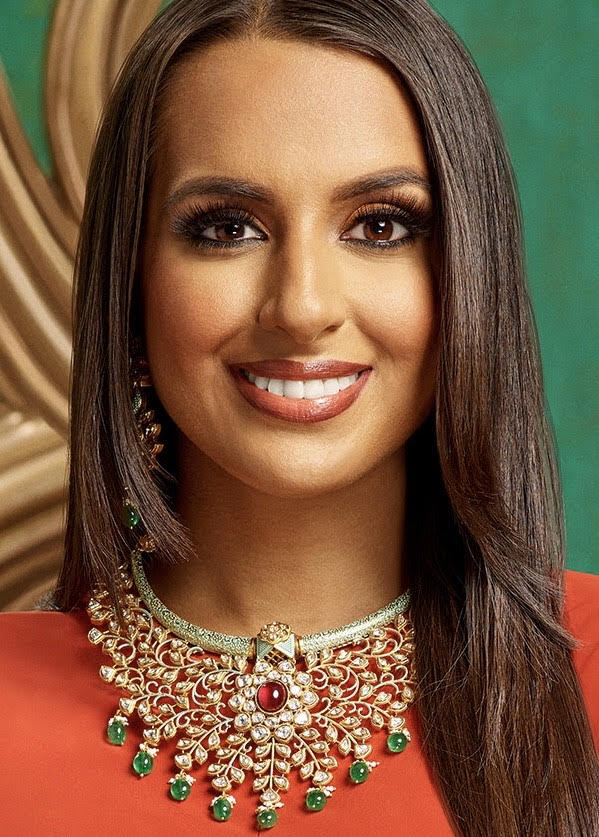 BollySpice.com focuses on Bollywood movie/music reviews, interviews with actors, actresses and different members of the industry. We know you love BollySpice.com (thank you), but for our predominantly Indian audience, can you share who is your favorite actor, actress and which is your favorite movie?
Oh yes! Favorite actor that I am loving is Ayushmann Khurrana. He is so good! And he is so cute! (Laughs) Him as an artist, he just has a way of just fitting into the role. He gets cast in such different films, every movie that I watch of him, I love! He's an easy answer for me, Ayushmann Khurrana for sure!
In actresses I really like Alia Bhatt and I'll tell you why. She's really fun, she's girly, she's like that alter-ego that I really want to have. (Laughs) She's so much fun and you always know there will be a good song when she's in it.
Favorite movie is Andhadhun with Ayushmann Khurrana, so, so good! I also watched The Sky is Pink recently and I was crying like a baby, literally wailing my eyes out. (Laughs) It's really good and really moving.

Out of my friend group, I know US pop culture but if you ask me about random actors in Hollywood, I'll get really confused without a picture but for Indian stars, Indian cinema, ask any name and I know everything. (Laughs) I know their birthday, their zodiac sign! (Laughs)
We're seeing a will-they won't-they love story with yourself and Brian Benni. Can you share any hints on how the show will end? Will we see a big fat Indian wedding?
I will tell you that if you think you have seen the drama unravel in the first three episodes; we haven't even touched the tip of the iceberg when it comes to that. So much more is about to happen and I cannot stress that enough. There is so much more to watch so you gotta tune in, but I can tell you it's going to get really, really good.
Which cast member can you handle a two-week self-quarantine with? 

I would say Bali and I'll tell you why. Bali has all the good skincare products, the really expensive ones that I can't afford. If we're in self quarantine and there's nothing to do, then she's forced to share a facemask with me. (Laughs) She uses these beauty products that are so expensive and I go to the beauty counter and just want to try on my hand. And like she has the full bottle. That's why I pick her. (Laughs) I love beauty products.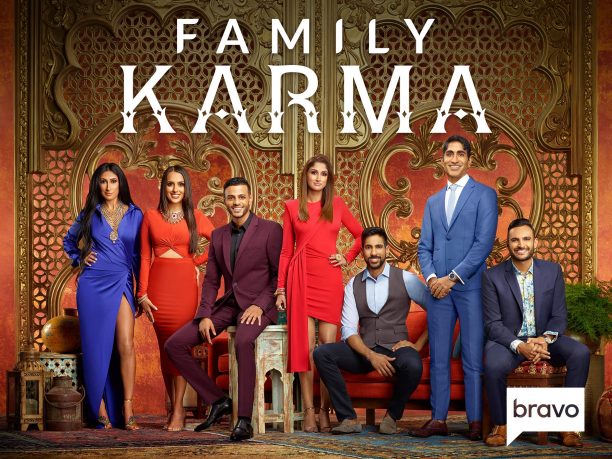 I have 6 rapid-fire questions for you on the Family Karma cast.
Am I gonna get a hamper like Koffee with Karan? (Laughs)
You're going to get an article! (Laughs) With a big shout out that we love Monica. How about that?
Awww (Laughs)
Messiest person?
Brian for sure! (Laughs) Have you seen his room in the last episode? (Laughs)
Funniest person?
Anisha's grandfather is HIL-ARIOUS. Oh my god her grandpa is so funny! I love when he says it's his birthday, it's so cute! (Laughs)
Easygoing?
Amrit is the most easygoing.
Who's most likely to be late?
I'm thinking I'm going to have to say myself. I mentally run off on Indian Standard Time (Laughs)
If you need help at 3AM, who would be there? 

I think I would go to my dad
Who would you date? 

I would date Richa for sure. (Laughs) No question in my mind. Whenever we go to an Indian party together, we sit across each other at the same table eating our samosas and we just literally know every song that the DJ plays. And I always tell her that 'you are so Indian, so in tune with Indian pop culture and music that I could date you'. (Laughs)
Is that a checkbox for your perfect ideal soul mate?
OMG YES PLEASE! Watch Bollywood movies with me!
And the BollySpice hamper results are out: We love Monica!
You can read BollySpice's review on the show here, You will be addicted to the Americanized masala that is Bravo's Family Karma.
Family Karma, airs Sundays on Bravo at 9:00 PM EST.