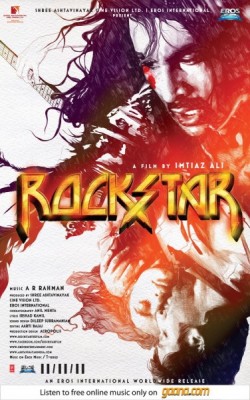 With so much fervor surrounding Rockstar which is set to scorch the screens on 11.11.11, Ranbir and director Imtiaz came together for a press conference, indulging the audiences with spicy gupshups about working with Nargis, Rahman's mesmerizing tunes, Bollywood's true-blue Rockstar – Shammi Kapoor plus Ranbir bearing his heart open on his relationships and heartbreaks.
Read on for some excerpts from the press conference!
Ranbir on working with co-star Nargis Fakhri"I can say this with a lot of confidence and please don't take this in a wrong way, but she is by-far the best actor I have worked with. Male-Female everyone included. She came into this film without any baggage, without any backdrop of acting, without knowing the language. When she came she worked so hard, she was dedicated, passionate. She learnt Hindi, used to do 6 hours of classes, she started writing Hindi. I really believe that she is one actress who will take this industry by storm because of her sheer dedication, her talent and her passion towards her work.
Ranbir on the original rockstar, Shammi Kapoor
When you take his name and say Rockstar, I think that is the true essence of a rockstar, which was Mr. Shammi Kapoor. We are all just off-shoots of that. I am just playing the role of a rockstar. I don't think I am even 2% of the rockstar that Mr. Shammi Kapoor was.
Ranbir all praises for Rahman and Imtiaz
As you know, the title 'Rockstar', he is a Jat boy. He has a musical journey, a love story. What kind of journey it is, when you see the film on 11th November, you'll will discover yourself. I'm enacting the character of a rockstar, Janardan Jakhar, who during the journey of his life becomes transforms into Jordan. More than me being a rockstar, working with Imtiaz Ali, who is actually the true rockstar of this film. A.R.Rahman, Mohit Chauhan who has sang the song ('Sada Haq'), the team of Ashtavinayak, all the AD's who've worked on this film, Mr. Anil Mehta, my guitar teacher – Jude sir, I think everyone is a Rockstar in their own right. It's really been a collaborative effort.
Ranbir on relationships and heartbreaks
Like a character in this film, who says that to be big in life you need your heart to be broken. Pain, sadness, tears are all important, only then does someone become a true artist, becomes a big man. That's how my character takes this learning very seriously. I know I'm very intelligently avoiding this question so that it doesn't come on me. (Smiles) But in my personal life, have I had heartbreaks, I don't know. You have bad days and you have good days. It's not like I've become a Devdas. I guess I'm young, I'm exploring like, I'm keen to date women, I'm looking for heartbreaks. With every relationship, you grow in life, you learn a lot about life and all that stuff that fills inside you – the pain, the happiness all that can just come in your work.
Imtiaz on being questioned whether he thinks that Ranbir has the rockstar aura
I hope so because we have invested very heavily into that aura, and we hope he has that. I hope when you see the film you will realize that the decision was right. He as an actor has a truth of acting that you become that person. But still there are certain things that are in the body of a person. I always had this image, that this man, the rockstar, is standing infront of a lac audience and he is not even dancing, he is not even trying to impress anybody. Just by standing there who can just reach out and entertain and keep spell-bound a lac of people in a stadium.
You can see Ranbir mesmerize when Rockstar hits theaters on 11-11-11.