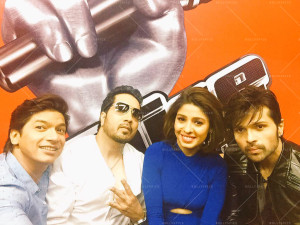 Ever since the announcement of the forthcoming musical reality show 'The Voice: India', there has been much buzz and excitement amongst music lovers. The shows unique international concept, is already attracting the necessary attention and so are the 'fabulous four' judges Music Director, Singer, Actor and Producer Himesh Reshammiya, Shaan, Mika Singh and Sunidhi Chauhan.
Speaking to ZeeNewsIndia, at the launch of the show, multi talented Himesh Reshammiya explained why he was so excited at being part of 'The Voice: India'. Himesh said "The concept of 'The Voice' has received acclamation worldwide. The show will have blind auditions where the coaches will pick contestants without seeing them. It will be a unique concept for the Indian audience. I've given space to many newcomers through the reality shows that I've been part of. As a composer, I'm looking out for some unconventional voices in this one." Talking further to RadioandMusic.com, Himesh added: "The show is very unique; unlike any other singing reality show on Indian television. It is a true showcase of original singing talent. No matter how you look or how old you are or how well you present yourself, as long as you have a voice that can sing and impress me enough to turn my chair around, and want you in my team, that is all that matters. But, I will say this, whoever is in my team; I will give them a break in the industry."
Himesh was recently seen as a mentor on India's RAWstar and has already helped singers Rituraj Mohanty and Akasa Singh. Needless to say, the singers who will be in Himesh's group will be very lucky indeed!
In association with www.himesh-reshammiya.com