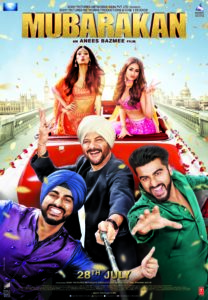 Mubarakan
Starring Anil Kapoor, Arjun Kapoor, Ileana D 'Cruz, Aaathiya Shetty, Neha Sharma, Pavan Malhotra, Ratna Pathak
Directed by Anees Bazmee
Okay, not every movie experience has to be motivated by a socio-political purpose. Sometimes you just need to have fun at the movies.
I had loads of it last night in Mubarakan, one of the craziest homages to airheadeness in recent years.
Anees Bazmee's film are deceptively naïve. They give the impression of being casual, flippant, inconsequential silly, goofy ….But sustaining this mood of anything-goes lunacy for more than two hours is no joke…and never mind the gush of jokey banter and situational comedy that has you scratching your head about who's who and what's what.
Very honestly I had a really tough time figuring out the plot line and the inter-relations of the characters. We were told at the start that Arjun Kapoor's Karan and Charan were twins who after their father's untimely death (if it's Sanjay Kapoor playing the father, it's got to be untimely) were brought up separately in Chandigarh and London. But strangely, I kept seeing double in Chandigarh and London.They were together most of the time.
Anees' Chandigarh looks like London, and vice versa. Luckily we could tell the twins apart because Charan wore a Sikh turban while Karan preferred to go turban-less, so at least that was a comfort zone in this constantly confounding tale of a family feud that stretches from Pavan Malhotra's hyper-ventilating Punjabi patriarch in Chandigarh to Ratna Pathak Shah's perennially snarling matriarch in London.
In-between we get at least 45-50 characters whose inter-relations are as hard to keep up with as Nitish Kumar's changing political alliances.
Most confusing of all was Karan and Charan's love life. After watching them play musical chairs with Ileana D'Cruz (trying hard to be goofy to match the film's mood), Aathiya Shetty (silent most of the time) and Neha Sharma (easily the best of the trio) for 2 ½ hours, I am still not sure of who loved whom and why. This could be because the twins themselves seem completely confused about their hearts and minds.
The girls are no better. Neha Sharma playing a feisty Muslim girl loves Charan but quickly falls in love with the NRI(Karan Kundra) in London. Well, Madonna predicted this materialism many decades ago in her celebrated song. I am not very sure if anyone here has heard Madonna.
Amidst the torrential tumble of engaging inanity there are spurts of brilliantly written humour. The scene in the mall where Ileana unwittingly insults her boyfriend's mother and the sequence where Pavan Malhotra gargles loudly in the bathroom when his warring sister visits to invite him for a wedding are cornball classics.
This is as opportune a time as any to tell you Pavan Malhotra is absolutely brilliant as the constantly livid rustic Sikh. We need to see much more of him. And the actor playing Ileana's father reluctantly shelling out his credit card time after time to pay for his daughter's wedding makes or a telling and funny comment on the dowry system. There is also a charming dig at the eyebrows raised at inter-communal marriages.
Arjun Kapoor's twin towers are mercifully not felled by any lack of enthusiasm. He gives both the roles his all. But the show clearly belongs to Anil Kapoor. Playing the sutradhar and the benign bumbling do-gooder who gets caught in a feud between two families Anil is masterclass in comic timing. He is aided by a supporting cast that has decided to forget logic and have a blast.
We second that motion.
The writing is brisk, brusque. and innovative, though the film needed to be at least half an hour shorter. On the plus side, the cinematography (Himman Dhamija) and the background score (Amar Mohile) are super-slick and appealing. Anees keeps the humour completely free of sleaze.
And that's no mean achievement.