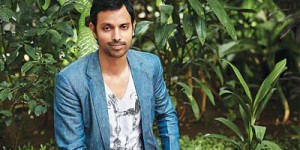 This Friday sees the release of Bheja Fry 2, which stars Vinay Pathak, Amole Gupte, K. K. Menon and Minissha Lamba. The film is a sequel to the original, which also starred Vinay Pathak. A new production house Watchtower Entertainment, which is headed up by Mukul Deora, is producing the comedy film. We had the unique opportunity to interview with the singer turned debutant producer Mukul Deora about the film in Mumbai. Looking suave clad in casuals, Mukul enters Minissha's vanity van while teasing her lightly: "So the six hour make up thing is happening!" Genial courtesies and some light moments later, we leave Minissha to ready herself for the line-up of interviews for the afternoon, while Mukul joins us for a quick tête-à-tête talking animatedly about music, movies, politics and more.
Belonging to a political family, with father and elder brother being members of the Indian parliament, Mukul's interests lie in the creative field of music and entertainment. A man of multiple talents, armed with a business management degree, he started a packaging solutions company with factories across India. Simultaneously, he worked his way to a career as a DJ, moving to experimental sound performances and eventually releasing his first album 'Stray' in 2006. The album was a critical success and today, five years later, the singer boasts of multiple albums, national as well as international stage performances and shows on his CV. Having sold off his packaging company, he recently started his own production company – Watchtower Entertainment – ready to break into the market with its first production offering Bheja Fry 2 (sequel to the much loved 2007 flick Bheja Fry) which is set to hit the screens on June 17th.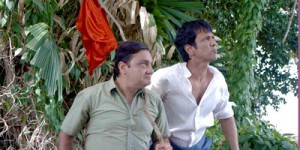 Explaining his foray into production and the creation of his company Watchtower, Deora reveals, "I was looking at other things, other creative areas which were also interesting to me. Since the last five years I have seen that the movies, which have come out, are of my taste – you know the ones, which were labeled as 'multiples movies'. The mentality of Indian viewers is now changing. Today they prefer the song and dance routine, but every year more and more movies are coming out which are real with good acting, good scripts, good stories…you know, good movies. They are looking now towards – if there's one word I can use – realism, haqeekat. I was looking at this and if I want to work in the movie industry – as a director, producer, whatever – I can't make movies that I don't like because I have to understand what I make. Movie making is a business, you are not making movie for your friends, and you are making it for an audience so the commercial angle is always there but I want to balance – something that I like and something that works."
Having had ample experience as an entrepreneur, we wonder if the experience has helped him in his work as a producer considering both deals with business aspects. Mukul agrees, in fact it was this mix of business and creativity that drew him to films in the first place. "If you want to produce movies, then you have to look at the whole chain. First thing is which story you want to make, what is the script, what are the actors, everything. If you don't market it nobody comes and sees it. Even the distribution, you have to take care of it."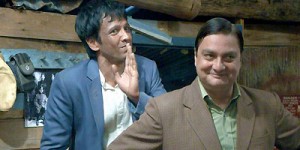 After discussions with director Sagar Ballary, they zeroed down on Bheja Fry 2 as their first production because Mukul was happy with the script. "I don't see it as a sequel. I see whether it is a good story and I like it and whether as a team we can execute it." Sequels have a lot of expectations riding on them, especially if the first part has been successful. So, of course there will be pressure. But Mukul feels that making sequels also have a plus side to them what with the brand equity and the name associated with the product. In order to maintain the essence of the Bheja Fry franchise, it was obvious that Bharat Bhushan aka Vinay Pathak would be a part of Bheja Fry 2 but viewers won't be seeing Rajat Kapoor in this one. Instead it would be Kay Kay Menon who willing be getting his bheja fried by Vinay. "We couldn't have Rajat again because we wanted something new. The main requirement of the character was that we wanted someone tall and slim because the characters are like Laurel and Hardy. So we had to think who the tall and slim actors were and there were not many of them – we thought about Amitabh Bachchan. Kay Kay is a great actor and he has done a fabulous job in the film. Amole Gupte too is a great writer, great director, great actor and a great person. So you want to work with someone like that, someone who is good in everything."
With such an in-depth knowledge about music wouldn't it have been better to be involved in the composition of the film's music? Mukul thinks otherwise. Having been involved with music that is more edgy and urban, he feels that he would not have been able to do justice to the music of the movie. "I thought that for this movie it was better to get other people because the type of movie this is, is not the type for which I would make music, it's a little different. Sneha Khanwalkar is one of the best and Ishq Bector who is a good friend of mine, I got him to do a couple of songs. So yes, I was happy that I gave it to someone who knows it and understands it," he says.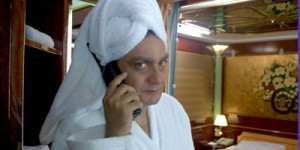 Having donned many hats, we can't help but ask if there's anything particular to which he is more biased. Thoughtful he says, "It's a good question. At heart I am a creative person. I enjoyed making music very much. I also enjoyed working on the script of this movie. I cannot imagine doing anything without a creative aspect. The business part I have started to like. I know it's a part of me and I have learned that I am not bad at it; I am pretty ok and should use that."
He goes on to add that his debut as a producer has been a very good experience, "I learned a lot. I think it's a very good film. Anyone who would see the movie would agree that it is much funnier than Bheja Fry."
Unwilling to disclose much about his forthcoming projects, he signs off after quickly adding, "I will tell you in a month! There is a Hollywood movie called White Tiger which we are producing."
While we will eagerly await news on Mukul's future plans, for now BollySpice wishes him success for his debut. Be sure to catch Bheja Fry 2 on June 17th!