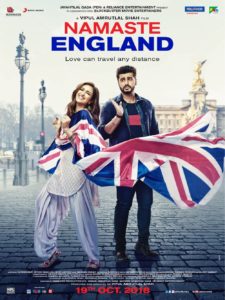 Namaste England
Starring Arjun Kapoor,Parineeti Chopra,Aditya Seal,Alankrita Sahay
Directed by Vipul Amritlal Shah
Vipul Shah likes to come clean. His movies are straightforward simple and aimed at the heart. Namaste England is no exception. It bears a strong thematic resemblance to Vipul' s Namaste London that came 11 years ago. In both , the desi Punjabi son-of-the-soil hero makes it his business to bring his London-based wife back to her roots, and her senses.
This image of the hotheaded, impetuous, somewhat selfish heroine suited Katrina Kaif's haughty personality in the earlier film. Parineeti Chopra is way too homely to look convincing in her Londoner's avatar. In a way that suits the plot's purposes, as the image of the desi girl hellbent on acquiring a British residency acquires a sense of ironic wistfulness in Parineeti's tangy personality.
Param, her pure-hearted husband is played by Arjun Kapoor with an all-heart earnestness. He follows his over-ambitious wife to London to get her back, ropes in a London-Asian girl Alisha (Aankrita Sahay)'s help to set up charade that fits in snugly with the film's main thematic thrust: don't ruin your today in pursuit of your dreams for tomorrow.
The cast performs with sincerity that sometimes gets stagey. While Arjun and Parineeti look comfortable in each other's company, some of their romantic moments together are done with the over-cute impishness that seems way out of line. Curiously, the second leads are far more appealing and convincing. Aditya Seal as Parineeti's trophy-husband succeeds in making his character of a spoilt NRI brat anything but a jerk. Considering the limited he has been provided to make his presence felt, Seal does well for himself.
Aalankrita Sahay starts off as spoilt silly Saira Banu from Purab Aur Pacchim, desi girl lost in a haze of Western influences but quickly make way for a more empthatic character.
Miracles, says the plot, are not impossible. Just look for them in your heart.
Ah, before we forget, Vipul squeezes in his Manoj Kumar/Purab Aur Pachchim moment when Arjun's Param gets to tell a phoney firangi Indian why he will always a be a second-class citizen in England. Akshay Kumar, you will remember, did the patriotic act with impeachable conviction in Namaste London.
While the narrative serenades the effervescent mood, a serious tone is allowed to creep in with a statement on the issue of illegal migrants in Europe. Stand-up comedian Mallika Dua plays a swanky Punjabi Londoner whose husband mops the floors on Heathrow airport. Considering the amount of cleaning up going on in India, he could just as well use that mop at home.
Namaste England is beautifully shot by Yiannis Manolopoulos. The film looks and feels as though it has been shot in a dreamscape. The free-floating baby-shower feeling sees the saga to its unimpeded end. Of course Param and his truant bride (now fully sobered-down) live happily ever after. Given the film's blithe mood that isn't a spoiler. It is the need of the hour.