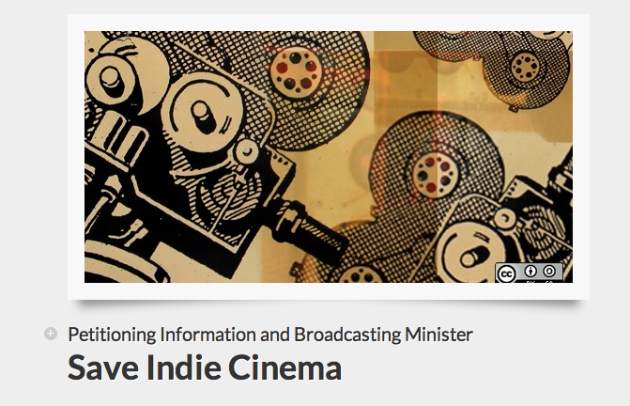 Lead by Onir (I Am, My Brother Nikhil), 20 filmmakers have joined together to file a petition to the Information and Broadcasting Minister to save indie cinema in India. Calling it Indian New Wave Indie cinema, these films are known for their serious content, which explore the social and political times with a very realistic style.  National Award winning film makers Aparna Sen, Ashutosh Gowariker, Ashwin Kumar, Buddhadev Das Gupta, Girish Kasaravalli, Goutam Ghosh, Jahnu Barua, Janaki Viswanathan, Nila Madav Panda, Onir, Rituparno Ghosh, Sachin Kundalkar, Suman Mukhopadhyay, Umesh Kulkarni, Vinay Shukla, film makers Kaushik Mukherjee(Q), Subhash Kapoor, Amir Bashir, Anant Mahadevan and Oscar Award and National Award winning Sound Engineer Resul Prookutty are part of this petition to save the films that are outside the strictly Bollywood box and want people and the government to support and nurture meaningful cinema. You can sign the petition here https://www.change.org/petitions/save-indie-cinema.
Onir told us, "This was a long overdue campaign and I think this is the first of its kind where 19 film makers across the country have come together for a single cause. To demand for our space to preserve and nurture our art and craft. The exhibition system in India whether it is the satellite channels or Doordarshan or multiplexes only serve the studios/stars and mostly Feel good cinema. But all kinds of cinema needs to survive. And we need to start seeing each other films with subtitled. This is a movement which is truly working towards a pride and appreciation of INDIAN(Ntional) Cinema that is not dominated by boxoffice."
Their petition reads:
As the country celebrates 100 years of cinema we want to bring to your notice how New Wave Indie Cinema of India is under threat. Among the various challenges that we face as Indie film makers, the biggest is that of exhibition. The multiplexes which were given tax benefits to promote small budget content film have in fact been instrumental in destroying small cinema by only playing the box office game.   
The Indian New Wave, commonly known in India as Art Cinema or Parallel Cinema as an alternative to the mainstream commercial cinema, is a specific movement in Indian cinema, known for its serious content, realism and naturalism, with a keen eye on the sociopolitical climate of the times. This movement is distinct from mainstream Bollywood cinema and began around the same time as the French New Wave and Japanese New Wave.
High ticket pricing that is inappropriate for small budget films, less no. of shows and odd show timings further destroy the possibility of Indie cinema (regional and Hindi) to have any proper chance at being viewed. It makes no sense that a 150 Crores film and a 1.5 crore film are priced by the multiplexes in the same manner.  
Given the current scenario we feel that that National Television channel Doordarshan can play a vital role (like it did once upon a time when it aired good Indian and world cinema every Sunday) in supporting and nurturing meaningful Cinema.
While applauding the fact that the ministry is spending 600 crores to revive our archival films we want to bring to your notice that urgent attention needs to be given to support the meaningful Indie cinema. A vibrant present day cinema culture will know how to  celebrate our past much better. Otherwise we will be celebrating the past glory while letting the present new wave Indian cinema die.  
We have some suggestions :
1) Why are films being discriminated as compared to TV programmers? TV content is not censored and has much wider viewer-ship and is exposed to the viewers indiscriminately. Why is it that serials/reality shows get away with so much regressive content while films face so much censorship when it comes to TV? Once censored, all films should be allowed to be screened on TV according to appropriate time slot without any further censorship.
2) 9 pm slots for U/A rated films on DD and Satellite.   
3) 11pm slot for A rated films on DD and Satellite. It would be a shame if some of the gems of Indian cinema cannot be seen on DD because of this policy.  
4) All National awards film irrespective of language should atleast be given at least one prime time screening. It would be a shame that these films, which are considered important, are relegated to time slots that are odd. Once again like multiplexes here too BLOCK BUSTER films, irrespective of the fact that they very often contain regressive content, are given the prime time slot.   
5) Showing National award winning films during prime time will truly serve the purpose of the word "NATIONAL" and promote awareness and understanding within the country of our diverse culture. Today cinema can serve as a link between various languages and culture within our country. While we talk about crossing over to the outside word its more important that we cross over within our state boundaries. And DD can play a pivotal role in this.  
6) All national award wining films get eligible for all the categories, and hence DD telecasts become a significant component of the recovery system. Winning the national award should also transform into monetary benefit so that we can make more films in that space.  
7) NFDC used as body to identify other indie cinema from across the country which should be given a platform on DD  and provided at least one prime time screening slot.  
8) National Awards is the country's most precious award and it should be in the mandate that any work that has been copied or has elements that suggest pilfering should automatically be disqualified.  
9) In a year where 600 crores is being spent on reviving archival material even if one third the amount was spent in building spaces – as in low cost exhibition space across the country – which will screen Indie films irrespective of language at lower ticket price it would change the course of cinema in India. With 200 crores at least 400 cinemas can be made… and then we would truly be celebrating the cinemas of India.  
10) Till there is a separate space made available for indie cinema multiplexes should in the spirit of its creation be made to allocate one screen , all shows only for Indian indie cinema (Hindi and regional)  
11) We feel that's as Indie film makers we face much more discrimination while applying for a censor certificate. Big budget films with really regressive and sexist elements get away in the name of entertainment. While any serious discussion is treated as negative. We seriously need to look at what really is regressive and what actually is throttling art in the name of morality.  
12) NFDC could be used as a body to identify regional language films that should be given tax exception when released in other states so as to promote within the country exchange of films.  
You can join them in saving Indie cinema in India by signing the petition athttps://www.change.org/petitions/save-indie-cinema