1500 kms over 30 days across 5 states, 8.89 crore funds in 12 hours, 508 villages, a galaxy of celebs, singers, citizens concluded the 12-hr gala finale of the fourth edition of the NDTV-Toyota Greenathon on Sunday at the sprawling Yash Raj Film studios in Mumbai. Presented by the country's reputed news network, NDTV, Brand Ambassador Priyanka Chopra, comedian Cyrus NDTV's Group CEO Vikram Chandra celebrated 20th May as 'India's Recycling Day', creating awareness, spreading the magnitude of the depleting green environment and inviting citizens to participate in campaigns such as deposit waste in centres across 8 cities.
For its fourth year, Greenathon's focus has been recycling waste, especially plastic, along with encouraging everyone to keep their immediate environment clean. Joining the grand celebrations of Greenathon-4 were film personalities Shahrukh Khan, Aamir Khan, Shahid Kapoor, Parineeti Chopra, Arjun Kapoor, Sridevi, Farhan Akhtan, Kunal Kohli, Rahul Bose, Bappi Lahiri as well as celebrity chefs, composers and singers, Chief Ministers, Members of Parliament, school children and citizens from around the country. Keeping the audiences and hosts entertained in the 12-hr marathon event, Ayushmann Khurana, Malaika Arora, Shweta Tiwari, Blaaze, Euphoria, Swananda Kirkire and Rabbi Shergill put up scintillating performances.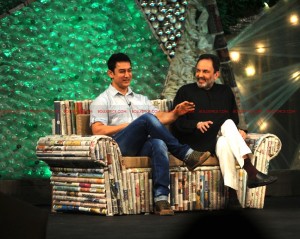 In keeping with the green theme this year the NDTV-Toyota Greenathon 4 set created by Omung Kumar was made of recyclable products such as light bulbs, cardboard boxes, tin boxes, used newspaper, tin plates, paper plates, etc. The Green Set also had a Green Kitchen area where celebrity chefs including Aditya Bal, Ritu Dalmia, Bikramjit Singh and Vicky Ratnani cooked some eco-friendly, delicious recipes for guests and hosts.
Showing his support for the Green Initiative and raising awareness about the environment fourth straight year in the row, Actor Milind Soman who had started his 1500 km Green Run on April 20, running from the Qutub Minar in New Delhi, across 5 states, ended his Green Run at Yash Raj Studios on Sunday. Milind's 1500km run in 30 days has been recognised as a World Record by the Limca Book of Records, which is a milestone for NDTV-Toyota Greenathon 4's environmental awareness campaign.
In an attempt to mobilise a mass movement, plastic/recyclable waste collection centres were set up across New Delhi, Mumbai, Kolkata, Chennai, Bangalore, Phagwara (Punjab), Dharamshala and Nainital. People across these cities were invited to come out and participate in the recycling drive by depositing their recyclable waste, from plastic (bags and bottles), metal, paper, Tetrapak cartons and e-waste.
Speaking on the occasion Dr Prannoy Roy, Chairman NDTV Group, said "NDTV-Toyota Greenathon 4 has been the best we have seen so far. I would like to thank TERI for being there and making this whole experience a success. Not having light is like losing your eyesight."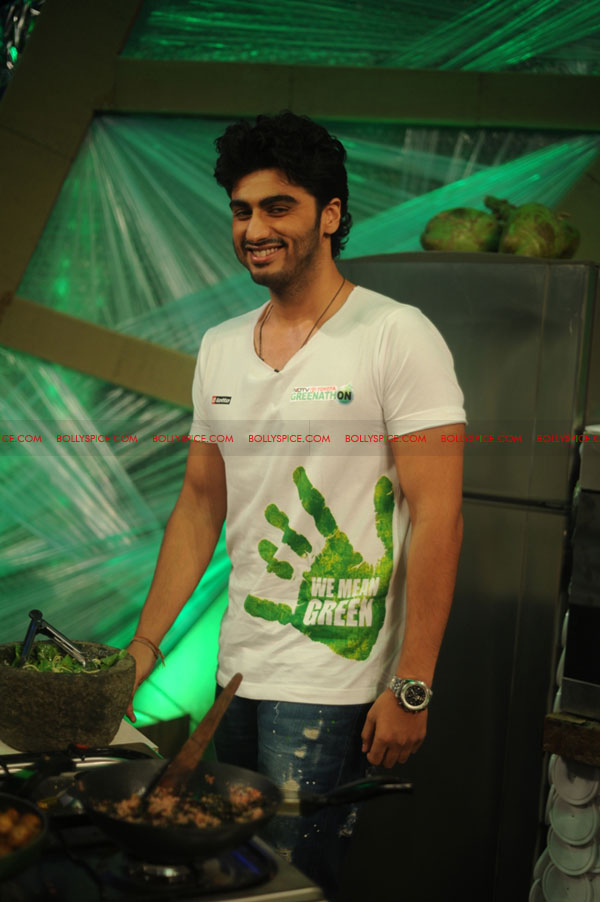 Since its launch in 2008 The Greenathon Campaign has already funded solar lanterns for over 600 villages benefitting thousands of households. This year's campaign which was launched in April in Agra with a 'Clean the Yamuna river' drive by Brand Ambassador Priyanka Chopra; saw Rs. 8.89 crore being raised to benefit 508 villages. Indus Tower came forward to donate Rs. 5 crore and the Power Finance Corporation donated Rs 3 crore. Other key donors included Shah Rukh Khan who adopted 12 villages and Aamir Khan who adopted 5 villages. Shahid Kapoor adopted 3 villages, Priyanka Chopra adopted 2 villages; Ms. Rajni Chitra donated Rs 5 lakh, Rahul Bose, Arjun Kapoor, Ritu Dalmia and Bappi Lahiri each adopted a village. DPS Sharjah and Solid Solars donated Rs 3.5 lakhs, Dr Sunil Chabaria, Lok Sabha MP Dr Ajay Kumar, Anirudh, Bangalore's Avni Energy Solutions CTC, Toyota each adopted a village.
About the NDTV-Toyota Green Campaign
The NDTV-Toyota Green Campaign was the first ever-nationwide campaign to save the environment. Launched in April 2008, the Campaign was aimed at creating awareness about the environment, by involving the people of our country to make a difference, and is supported by Dr RK Pachauri and TERI. As part of the environment campaign, NDTV organised India's first Telethon in 2009 – THE GREENATHON, a fundraising event that brought in people to donate money to support TERI's initiative – Lighting a Billion Lives which aims at providing solar power to villages without electricity.