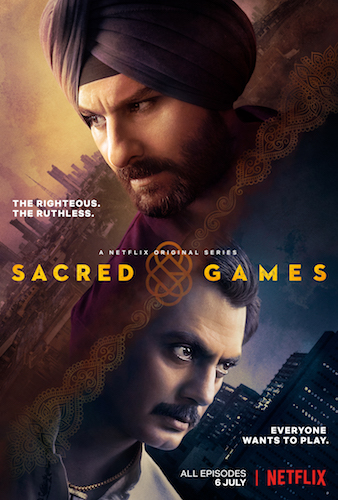 I first picked up Vikram Chandra's massive tome Sacred Games at my local bookshop, and from the very first pages, I knew I wanted to see it adapted for the screen. I could never figure out, though, quite how that could happen – the novel was sweeping, layered, intricate, and it seemed to me that the challenges of adapting it might be beyond the scope of, say, a film. Since the book's publication we've seen the rise of Netflix as a significant player in the world of content creation for online streaming, and the news that Sacred Games would be adapted as a Netflix Original Series – the first Indian Netflix Original – seemed to be the perfect fit for this material. A Netflix adaptation would give the time and the space – and the creative freedom – to tell the story of gangster Ganesh Gaitonde and policeman Sartaj Singh in a way that would allow it to stay true to the novel's original intentions.
The series has been ably adapted by writers Varun Grover, Smita Singh and Vasant Nath, and is directed by Anurag Kashyap and Vikramaditya Motwane – whose work both independently and together as directors, producers, and writers, has pushed the boundaries of contemporary Indian cinema both artistically and technically.
"God talks to us through stories," Ganesh Gaitonde (Nawazuddin Siddiqui) tells Sartaj Singh (Saif Ali Khan) – and it's Gaitonde's stories, that he begins to share with Sartaj in a phone call, that set the stage for everything that will come after Sartaj Singh tracks Gaitonde down to his secret lair. Sartaj has twenty-five days to save his city, Gaitonde tells him ,before taking his own life and leaving Sartaj, the police, and agents from India's intelligence agency, RAW, to draw out the threads of Gaitonde's life in order to understand his final message.
I admit that I mainlined the four episodes (of eight total) that Netflix made available for as a media screener in advance of the series premiere on July 6th, and I'll be waiting in anticipation to finish watching the series in its entirety. Kashyap and Motwane give us a series steeped in Mumbai, the "Maximum City" (as writer Suketu Mehta called it in his similarly titled book) where people of differing castes, religions, and often disparate financial backgrounds bump up against each other in a place where, as one character notes, anything is possible. The action moves back and forth from the present day, in which Sartaj Singh and RAW agent Anjali Mathur (Radhika Apte, pitch perfect in portraying the ambition that drives her character) try to unravel what Gaitonde has alluded will happen in twenty-five days, to the past, in which Gaitonde's story sets the stage for the game that has been set in motion.
Nawazuddin Siddiqui is in familiar territory with the character of Gaitonde, but the actor makes us intrigued by Gaitonde from the very moment we hear his voice on Sartaj's phone, pulling us in to his story as he draws Sartaj into the game he's laid out. And Sartaj himself is an unlikely candidate to be at the centre of investigating Gaitonde and his plans – even he wonders why Gaitonde chooses him, of all people, to call. Sartaj Singh is middle-aged, divorced, and on a fast-track to nowhere career-wise as he refuses to toe the line his superiors have laid out for him, anxious to steer clear of their improprieties and live up to the memories of his upright police-officer father. So anxious, in fact, that he needs to take pills to keep the anxiety at bay. I can't remember the last time I enjoyed a performance from Saif Ali Khan quite so much, his face is a constant mixture of worry and exhaustion at where his character finds himself in life. Sartaj Singh is, mostly, rudderless. Certain events reveal to us that Sartaj has principles, and the teeniest flame of career ambition that still hasn't been entirely extinguished, and I'm looking forward to seeing how that will play out as he continues to navigate the maze set out in the first four episodes.
Sacred Games is part gangster thriller, part investigative thriller, and part police procedural that plays out against a Mumbai — where gangsters, police, politicians, television stars and Bollywood actors bump up against each other – that is as glamorous as it is gritty. I breathed a sigh of relief that a book I adored had been adapted so well, and I can hardly wait until July 6th to finish watching the series.