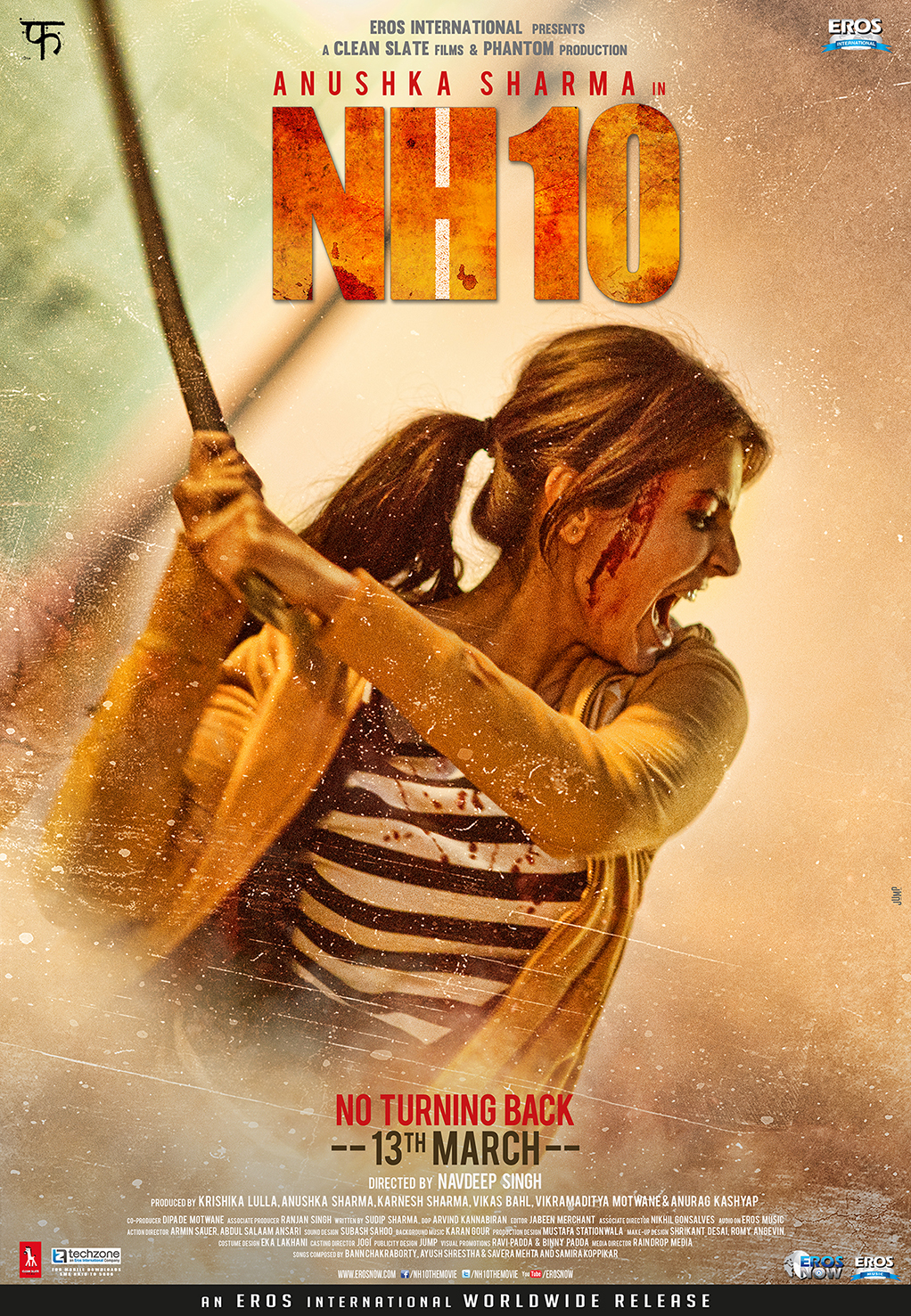 Away from the city, as we touch the outskirts of Haryana, you can feel the difference between the entitled lifestyle in the city and the life of the folks here where the set of rules to live by are definitely different. Navdeep Singh uses this as a backdrop for his movie NH10 giving you a tale of how things can go horribly wrong in a short span of time.
After his amazing Manorama Six Feet Under, Navdeep gives us a thriller/slasher/revenge story which is surprisingly less Bollywood-ish and more entertaining. Meera (Anushka Sharma) and Arjun (Neil Bhoopalam) are your typical urban couple – well off, happily married to each other and their jobs, in love yet independent and without the overt mushiness. An unexpected encounter with a couple of hooligans shakes Meera out of her comfort zone and she realizes that a fraction of a second is enough to make anyone's world go topsy-turvy. To take their minds away from this issue, they plan a weekend out on Meera's birthday hoping to put the past behind them. The change in their surroundings is palpable as they leave the city; the hostility of the people, the leering stares. In such a situation, they face an altercation with Satbir (Darshan Kumaar) and his folks and witness a case of honor killing. From there starts a cat and mouse race where Meera and Arjun try to escape the killers and save their lives.
Navdeep lays his story with an amazing backdrop with realistic characters and situations. The story of NH10 is such that it ensures that you remain glued to your seats throughout with the fear of what would happen to the lead protagonists. Most of the movie takes part at night and this setting helps the movie to maintain the tempo of suspense throughout the chase. Yes there are a couple of loopholes in the movie – particularly about the way Arjun reacts which leads to this entire mess – but the movie is good in most of the parts so you turn a blind eye to them. Along with the execution of the story, the movie relies heavily on performances. NH10 revolves around a fix set of limited characters but each plays their part true to their character. After his role as the loving supporting husband in Mary Kom, Darshan Kumaar manages to bring terror to your hearts with his role of Satbir who places the 'rules of the caste and gotra system' even before blood relationships. Deepti Naval, in an unexpected role, plays her character to the T. Neil tries to do justice to his role but Arjun comes off largely as an immature, egoistical privileged brat.
Needless to say that the movie belongs to Anushka Sharma. You can see the hard work she has put in her role as well as the movie. As an educated urban woman who faces the worse night of her life and struggles to save her and her husband, Anushka shows the transition from fear to grit to dead pan remorseless revenge with ease. There are some scenes where she literally shines  – the scene where she calmly takes a smoke while one of the killers tries to stand and run is truly amazing. Also, it takes vision and great strength to back an unconventional movie like this one. Kudos to Anushka.
NH10 makes an impact on you because the movie stays away from outlandish Bollywood drama – most of the times –  and puts forth a day gone wrong situation which could happen to anyone. If you caught yourself looking over your shoulder more than once on the way back home you know this movie made an impact on you.
Don't miss this one.