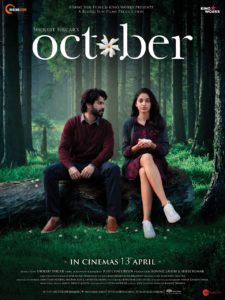 October
Starring Varun Dhawan, Introducing Banita Sandhu
Directed by Shoojit Sircar
In a film where everything that could possibly wrong for the characters, does go wrong, there is almost nothing that the director does that can even remotely be considered wrong.
Shoojit Sircar understands and empathizes ​with ​the pulse of the working class, their fears and anxieties. It could be an abundant sperm count (Vicky Donor) or constipation (Piku). The anxiety never ceases. In October, it is death and mortality that binds the characters in a clasp of compassion, not in any obvious way. But in the way the universe conspires to keep the world from falling apart.
Juhi Chaturvedi's writing is so lucid I felt I knew first-hand all the characters who populate her wondrous world of alchemized pain.
The plot is​ about an obdurate seemingly obnoxious hotel-management trainee, played with wilful gusto by Varun Dhawan, who decides that the quiet, shy colleague Shiuli (debutante Banita Sandhu) who has gone into a coma has some kind of a bonding with him.
Unsure of that thing we call love, Varun Dhawan's Dan simply lives on the IDEA of love, extolling its idealism to a point where his existence is defined by one casual 3-worded question that Shiuli asked her colleagues before she slipped into a long coma.
The scenes in the hospital that follow, the distress of Shiuli's family of mother, sister, brother and an insensitive uncle, is so cogently mapped in the narrative I could almost hear the sound of my own heart pumping as I walked in that hospital lobby with Dan.
Sections of the film where Dan befriends the comatose girl's family vaguely resembled Kumail Nanjiani's The Big Sick. However, the resemblance is purely cosmetic. Deep down, October is a resolutely original exposition on love as defined by the rites of mortality. The characters are vividly etched and the credit for their firsthand accessibility must partly go to the wonderful actors who come together to act out Shoojit Sircar's ode to the idea of love.
This is a deeply meditative melancholic drama filled with resplendent visuals of trees shedding leaves and flowers almost as if they were crying over the loss of love. The narrative is denuded of all elements of hysteria and melodrama. Studied and yet spontaneous, Shoojit Sircar's outstanding grip over his narrative and characters is reinforced by the camerawork (Avik Mukhopadhyay), which celebrates the pulsating allure of Nature and Life while all around us, things fall apart and mortality seeps into our soul.
Varun Dhawan's deep understanding of what makes a character as seemingly overbearing as Dan bring out his sensitive side, navigates the film's simple elegant structure through a maze of life-transforming experiences, which convey the unexpectedness of life as it suddenly swerves into death.
​There is not a single superfluous moment in October, not a single frame that I would exchange for anything in the world.​ Everything falls in place, in spite of the cosmic chaos that controls our universe. Because as Varun Dhawan's Dan realizes, there is love at the end.