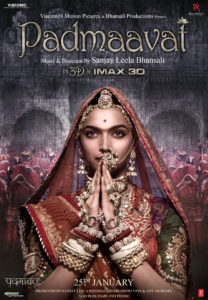 Period pieces bring a new level of challenge and difficulty for the music director as your imagination must be limited to what would exist within that era. Thus, Sanjay Leela Bhansali's Padmaavat has no club songs or rap breaks in it. However, this limitation is normal fare for this music director who brings us an album not only for the time but for the place the film is set in. Following on from Bajirao Mastani this album gives us another flavour of the capability of SLB to immerse ourselves into the film as an audience.
We begin the soundtrack with the now famous Ghoomar. A Rajasthani folk song from start to end, viewers will get a festival experience with Deepika Padukone. If the trailer is to be believed the song allows Deepika to show off her dance skills while avoiding the faster beats of dandiya. Swaroop Khan gives a brilliant opening taken over by a silken rendition from Shreya Ghosal but outside of this the lyrics, the tabla and strings are repetitive. There is occasional pick up in the beat inspired by the dhol but otherwise as a song it fails to challenge previous successes like 'Nagada Sang Dhol'.
From the earliest period movies, the emphasis is on the love songs. For Shahid Kapoor here SLB has created Ek Dil Ek Jaan. "Ek dil hai, ek jaan hai, dono tujpe qurbaan hai" is the songs tag line… an obsession just begun. Traditional instruments only, so once again tabla, anklets and ektara. As these are not loud instruments there is a heavy focus on the singer Shivam Pathak, however the song is short and clipped so no time is given to obsess over it.
While SLB is strong in period music, it doesn't mean he can't have some fun with a track. Khalibali seems to take on a nature-based theme and is the equivalent of a club track. The lyrics get drowned out in the chorus and the title itself is invented but it fits perfectly into lively tune. While not traditional instruments, the range still only extends out to strings and different drum styles, some of which may not have been native to this period in Rajasthan. The singer's voice is modulated to sound coarse allowing for a certain grating in the mind matched with mildly Spanish theme. Look out for this as an intro song for Ranveer Singh.
Padmaavat at the end of the day is about Deepika's character, so SLB has used the remaining songs to focus completely on her and her feelings. Nainowale Ne has dark seductive sounds, naturally backed by sitar and tabla. Neeti Mohan sounds light in comparison giving a non-classical performance. From the lyrics, "Mera chain, rein, nein apne saath le gaya," we can conclude this is a pining love song for one of our heroes but only watching the film will tell us which.
When you need an incredibly beautiful but overall sad tonal song you turn to Richa Sharma. In Holi SLB did exactly that and once again she has delivered. Not afraid to take on traditional lyrics sung in her sublime baritone Richa Sharma portrays a feeling of being distant from home rather than loss of the celebration, which gives 'Holi' an interesting twist. Those not familiar with the language will find this only sad, however it would seem it is being used for a glimmer of hope in what must be a dark time.
Finally, we have Binte Dil. The 'call of the heart' is done by none other than Arijit Singh but even he strains within his limitations here. More traditional lyrics are employed which enhance the feelings of heartbreak and patriotism. The addition of Urdu gives the scent of love but both Arijit and the music take the listener to a feeling of near torment in the power of its heart wrenching tones. This is definitely not the classic and smooth Arijit that we are used to, so it may not reach all members of his fan base like in the past.
Thus, the listener is asked to bear their souls and immerse themselves in Rajasthan of the period while listening to Padmaavat. It is a homage to the heart of the poet who wrote the original and to the performances of the cast and crew but due to a heavy reliance on traditional instruments and lyrics it makes it a little hard to understand and follow without the visual aids on the screen. Padmaavat is a continuation on SLB's grandeur canvas of ghunghats, ghagras and ghungroos. Yet, is the heart really there?